आंध्र प्रदेश
मध्य प्रदेश
बिहार
छत्तीसगढ़
दिल्ली
अरुणाचल प्रदेश
असम
गोवा
गुजरात
हरियाणा
हिमाचल
जम्मू कश्मीर
झारखंड
कर्नाटका
केरल
महाराष्ट्र
मणिपुर
मेघालय
मिजोरम
नागालैंड
उड़ीसा
पंजाब
राजस्थान
सिक्किम
तमिलनाडु
तेलंगाना
उत्तराखंड
उत्तर प्रदेश
पश्चिम बंगाल
अंडमान-निकोबार
चंडीगढ़
दादरा-नगर-हवेली
दमन-दीव
लक्षद्वीप
पांडिचेरी
CSPGCL Recruitment 2023 – Apply Online for ITI Trade Apprentice 105 Posts
Name of the Post: CSPGCL ITI Trade Apprentice 2023 Online Form 
Post Date: 19-01-2023
Total Vacancy: 105
Information: Chhattisgarh State Power Generation Company Limited (CSPGCL)has advertised a  notification for the recruitment of ITI Trade Apprentice Vacancy. Those Candidates who are interested in the vacancy details & completed all eligibility criteria can read the Notification & Apply Online.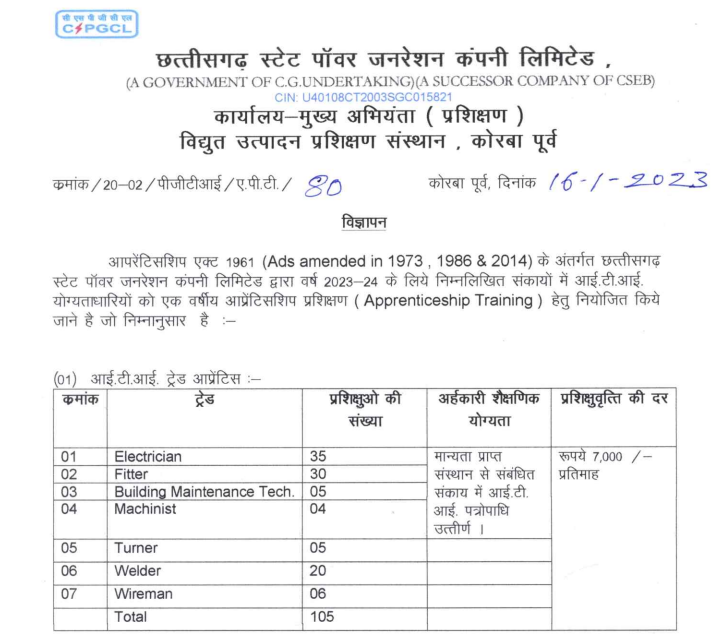 | District wise | District wise | District wise |
| --- | --- | --- |
| District Kawardha | District Kanker (North Bastar) | District Korba |
| District Korea | District Jashpur | District Janjgir-Champa |
| District Dantewada (South Bastar) | District Durg | District Dhamtari |
| District Bilaspur | District Bastar | |
| District Sukma | District Narayanpur | District Gorela-Pendra-Marwahi |
| District Balrampur | District Bijapur | District Kondagaon |
| District Surajpur | District Gariaband | District Sukma |
| District Balod | District Mungeli | District Bemetara |
| District Raipur | District Surguja | District Balodabazar |
| District Mahasamund | District Rajnandgaon | District Raigarh |
Why to Choose Government Jobs?
In today's time, everyone wants to get a government job because a government job has its own benefits. Working in a government department increases the prestige in the society. The main reason for wanting a government job is more salary, reduced work load, job Safety, as well as post-retirement facilities are the main benefits of a government job.
More salary – In government job, more salary is given than private job as well as many other facilities are also provided.
Reducing workload- The biggest advantage of a government job is that it has to work a lot less than a private job.
Job Security – The future worry ends when you get a government job because there is job security here.
Medical Facilities
Gratutity Benefit
National Pension Scheme Benefit
Transport Allowance
Paid Leave Benefits
Status & Social Power
There is a lot of salary for many government jobs in CHHATTISGARH , but getting a government job is not so easy but not impossible. There is a need to work hard to get all these jobs, millions of candidates apply every year to get these jobs. If you also want to do government jobs in these departments, then you should start your preparation.
CG Govt Job 2022 page is a very good place for candidates seeking government jobs. Here all the candidates who are preparing for competitive examination can search for a government job according to their educational qualifications.
| Important Dates | |
| --- | --- |
| Starting Date For Apply Online: | 16-01-2023 |
| Last Date For Apply Online: | 16-03-2023 |
| | |
| --- | --- |
| Qualification | Candidates should possess ITI (Relevant Trade) |
How to apply for Cg Govt Jobs 2022 ?
How to apply for Chhattisgarh Govt Jobs 2022?
It is a big process which needs to be followed by the rules made by any government. Follow the steps given below for Chhattisgarh Jobs 2022 . These steps may differ in some recruitment, as it depends on the type of particular job.
Visit the official website cgstate.gov.in or get the direct link from our article.
Complete your registration, if not already done.
Apply for the particular job you wish to apply for.
Enter your complete information.
Pay your fee, if applicable.
Take a print out of the application for complete details.
Vacancy Details
ITI Trade Apprentice
Sl No
Discipline
Total
1
Electrician
35
2
Fitter
30
3
Building Maintenance Tech
05
4
Machinist
04
5
Turner
05
6
Welder
20
7
Wireman
06
Interested Candidates Can Read the Full Notification Before Apply Online
Important Links
Apply Online
Login | Registration
Official Website
Click Here
Questions and Answers
1. Who can apply for Government Jobs in Chhattisgarh?
The Recruitment Board of the Government of Chhattisgarh offers a bunch of opportunities under various sectors. ie, Banking, Railway, Police, Defence, PSU, PSC, etc. Candidates who fulfill the eligibility criteria of the recruitment board can apply for Government Jobs in Chhattisgarh.
2. What details can I find on the Chhattisgarh government job page on jobbharati.com ?
You can find all important details like name of government organization having job vacancies, salary, eligibility criteria, start and end date for apply online and many more.
3. How to get notification of Upcoming CG Govt Jobs ?
To get notified instantly, bookmark this page and subscribe with our push notifications for free job alerts in CG.
4. How can I apply for Chhattisgarh government jobs online?
You can apply online by browsing the list given on this page. Then you click on the recruitment notice for which you want to apply. On clicking the link, you will see the complete notification. On the notification page you will get the apply online link. By clicking on that link you can apply online for the respective recruitment.
Note
Jobbharati.com किसी भी प्रकार की नौकरी देने के लिए कॉल या मैसेज नहीं करता है और न ही पैसे लेता है, कृपया फर्जी कॉल के धोखाधड़ी से सावधान रहें।