आंध्र प्रदेश
मध्य प्रदेश
बिहार
छत्तीसगढ़
दिल्ली
अरुणाचल प्रदेश
असम
गोवा
गुजरात
हरियाणा
हिमाचल
जम्मू कश्मीर
झारखंड
कर्नाटका
केरल
महाराष्ट्र
मणिपुर
मेघालय
मिजोरम
नागालैंड
उड़ीसा
पंजाब
राजस्थान
सिक्किम
तमिलनाडु
तेलंगाना
उत्तराखंड
उत्तर प्रदेश
पश्चिम बंगाल
अंडमान-निकोबार
चंडीगढ़
दादरा-नगर-हवेली
दमन-दीव
लक्षद्वीप
पांडिचेरी
CG FOREST JOB Direct recruitment
CG FOREST JOB Direct recruitment in Chhattisgarh
CG FOREST JOB Chhattisgarh State Minor Forest Produce Co-operative Federation Limited, Raipur, Raipur, dated 19.05.2016 approved by "Primary Forest Produce Co-operative Society Limited Manager Service (Planning, Terms and Working Status) Rules" according to Chapter-2 of service rule, District Minor Forest Produce Co-operative Union limit. Applications are invited to fill the vacant posts of Manager of Primary Forest Produce Co-operative Societies working under Surguja area. The vacancy details are as follows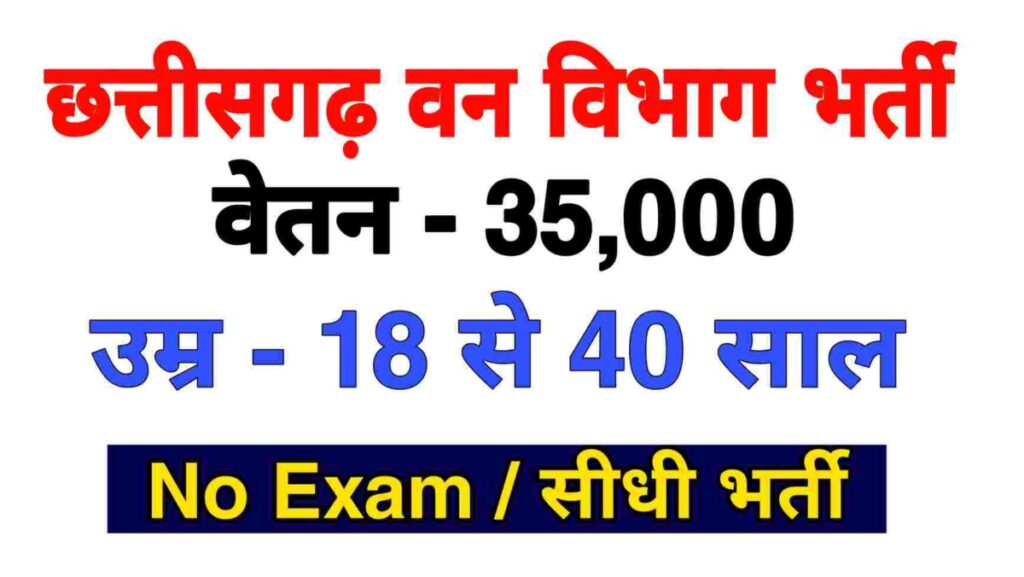 Department Name :-
CG FOREST JOB Chhattisgarh State Minor Forest Produce Co-operative Federation Limited.
Post Name :–
Primary Forest Produce Co-operative Society Mary. Dandgaon
Primary Forest Produce Cooperative Society Mary. Darima
Total No. of Vacancies :– 02
Qualification :– 12th pass, Graduation
Salary :– 20,000 thousand to 35,000 thousand
Date of application :- Office of the Managing Director, District Minor Forest Produce Co-operative Union Marya. Date of submission of application in prescribed format by personal/registered post in Surguja from 11:00 AM to 05:00 PM on official day 05.03.2023
Rules :– For appointment to the post of Manager of Primary Minor Forest Produce Cooperative Society, only tendu leaf collectors of the society area are eligible to apply and detailed information about the necessary educational qualifications and other terms and conditions can be seen in the notice board of the district union and the said committee office. Application format can be obtained from this office.
Note
Jobbharati.com किसी भी प्रकार की नौकरी देने के लिए कॉल या मैसेज नहीं करता है और न ही पैसे लेता है, कृपया फर्जी कॉल के धोखाधड़ी से सावधान रहें।