आंध्र प्रदेश
मध्य प्रदेश
बिहार
छत्तीसगढ़
दिल्ली
अरुणाचल प्रदेश
असम
गोवा
गुजरात
हरियाणा
हिमाचल
जम्मू कश्मीर
झारखंड
कर्नाटका
केरल
महाराष्ट्र
मणिपुर
मेघालय
मिजोरम
नागालैंड
उड़ीसा
पंजाब
राजस्थान
सिक्किम
तमिलनाडु
तेलंगाना
उत्तराखंड
उत्तर प्रदेश
पश्चिम बंगाल
अंडमान-निकोबार
चंडीगढ़
दादरा-नगर-हवेली
दमन-दीव
लक्षद्वीप
पांडिचेरी
CG Vyapam News: News of work for the examinees, the examination center of this examination has changed, is your exam center also not this? Read details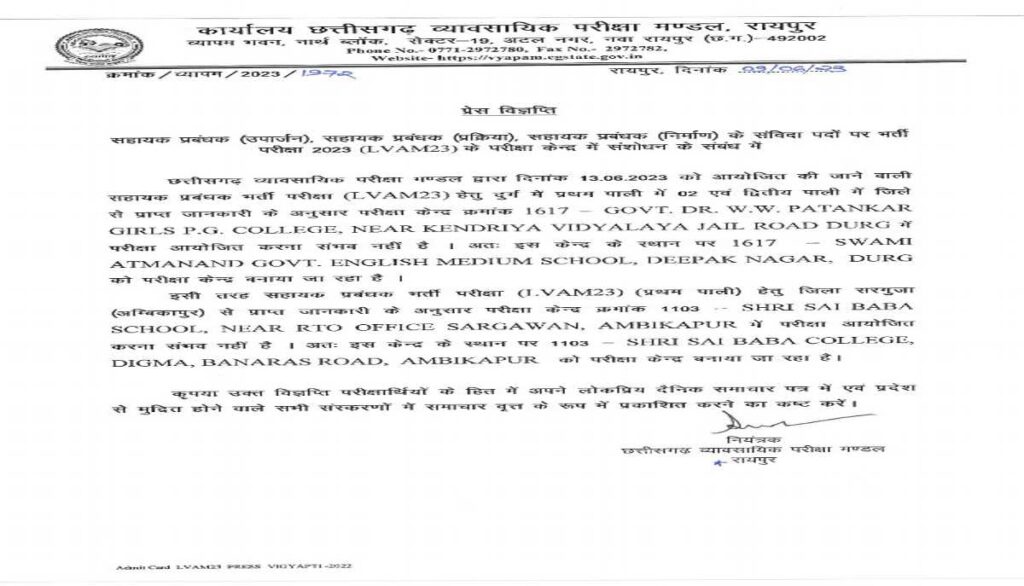 CG Vyapam News : News of work for the examinees, exam center of this exam changed,
New India Desk: Vyapam has organized the recruitment examination for the posts of Assistant Manager Procurement, Assistant Manager Process, Assistant Manager Construction on 13th June. This exam will be conducted in first and second shift.
Changes have been made in many examination centers regarding the examination. Changes have been made in these examination centers of Ambikapur and Durg. Candidates are requested to check this important information before going to the examination center.
Link – https://vyapam.cgstate.gov.in/
Note
Jobbharati.com किसी भी प्रकार की नौकरी देने के लिए कॉल या मैसेज नहीं करता है और न ही पैसे लेता है, कृपया फर्जी कॉल के धोखाधड़ी से सावधान रहें।