आंध्र प्रदेश
मध्य प्रदेश
बिहार
छत्तीसगढ़
दिल्ली
अरुणाचल प्रदेश
असम
गोवा
गुजरात
हरियाणा
हिमाचल
जम्मू कश्मीर
झारखंड
कर्नाटका
केरल
महाराष्ट्र
मणिपुर
मेघालय
मिजोरम
नागालैंड
उड़ीसा
पंजाब
राजस्थान
सिक्किम
तमिलनाडु
तेलंगाना
उत्तराखंड
उत्तर प्रदेश
पश्चिम बंगाल
अंडमान-निकोबार
चंडीगढ़
दादरा-नगर-हवेली
दमन-दीव
लक्षद्वीप
पांडिचेरी
Clerk Peon Operator Job Bumper recruitment for the posts of clerk, peon, operator in government department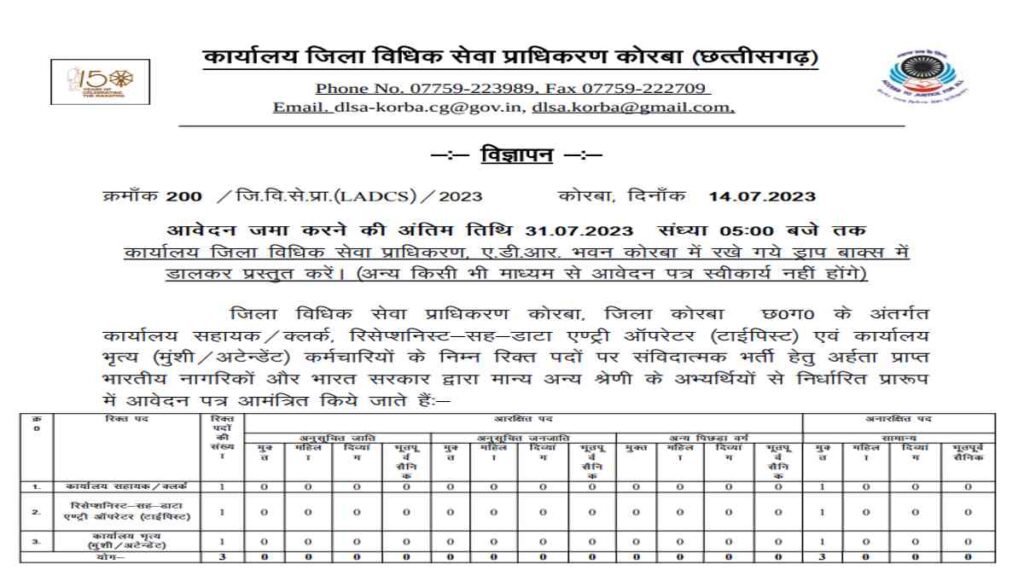 Office of the District Legal Services Authority Korba (Chhattisgarh) Department has invited applications for recruitment to various posts, pay scale, age limit and educational qualification and complete information about the process of applying for this recruitment is available below, from where you can apply for this recruitment by observing carefully.
Under the District Legal Services Authority Korba, District Korba Chhattisgarh, applications are invited in the prescribed format from qualified Indian citizens and other categories of candidates recognized by the Government of India for contractual recruitment to the following vacant posts of Office Assistant / Clerk, Receptionist-cum-Data Entry Operator (Typist) and Office Peon (Munshi / Attendant) employees:-
Recruitment department name
Office of District Legal Services Authority Korba (Chhattisgarh)
Recruitment Post Name
Office Assistant / Clerk
Receptionist-cum-Data Entry Operator (Typist)
Office Peon (Scribe/Attendant)
Total No. of Vacant Posts
03+
Recruitment Qualification
The educational qualification of this recruitment should be 5th, 8th, 10th pass, 12th pass and graduation from any recognized board or institution.
recruitment pay scale
The pay scale of this recruitment will be between 10,000 thousand to 40000 thousand per month.
recruitment age limit
Candidate must have completed 18 years of age as on 01.01.2023 but must not be more than 35 years. Local residents of Chhattisgarh have been given a relaxation period of 05 years in the maximum age limit of 35 years till the end of the calendar year 2023.(3) The maximum age limit shall not exceed 45 years under any circumstances. For applicants from other states outside the state of Chhattisgarh, the maximum age limit will be 30 years. The applicant should not have been removed or dismissed from service by any government or statutory body or local authority.
date of application
The application in the format attached with the advertisement, in a completely neat and clean filled sealed envelope, on which the name of the post applied for should be mentioned in bold letters, should be sent to the Office of the District Judge / Chairman, District Legal Services Authority, A.D.R. Building District Court Complex Korba (Chhattisgarh) will have to be deposited in the drop box kept in the office by 05.00 pm on 31/07/2023. Applications sent through post office or any other means will not be accepted.Along with the application form, it will be mandatory to attach attested or self-attested photocopies of certificates, educational qualification certificate, caste certificate, permanent residence certificate, live registration certificate of employment office (except government servants working in government / semi-government institutions), it will be mandatory for the candidate to apply for more than one post
Terms and conditions of this recruitment issued by the government department
Only the natives of the state can apply for the posts of this recruitment.
For the posts of this recruitment, the age limit of the applicant
should not be more or less based on the rule.
For the posts of this recruitment, the educational qualification should be 10th and 12th, graduation
and original certificate of degree.
Documents required to apply for the recruitment
One passport size photograph of the candidate applying for
Signature of the candidate to apply
10th and 12th marksheet of the candidate
Original copy of Domicile Certificate and Caste Certificate of the applicant.
Applicant's Aadhaar Card or PAN Card or Driving License or
any other identity card issued by the Government Department.
| Category | Application fee |
| --- | --- |
| UR | – |
| OBC | – |
| SC | – |
| ST | – |
| EWS | – |
| PWD | – |
| Women | – |
Question : What are the Government Jobs available in India?
Answer : More than One Lakh Government vacancies available in 2023. Following vacancies are Top Govt Jobs in India. (1) UPSC Civil Service Exam (2) SSC Combined Graduate Level Exam (3) SSC Combined Higher Secondary Level (10+2) Exam (4) Railway Non Technical Popular Categories (NTPC) (5) IBPS Banking Exam – Clerk, Probationary Officer, Specialist Officers, Assistants, Management Trainees (6) Railway Level 1 Posts (7) Railway Group D posts (8) Railway Para Medical Staff (9) Police Jobs – Constables, Sub Inspector, Head Constable, Inspector etc. (10) Banking Jobs – Clerk, Attendants, Assistants, Officer, Managers etc. (11) PSU Jobs – Engineers, Trainees, Technician, Apprentices, Executives, Professionals etc.Mantralayajob.com
Question : What is the minimum Qualification for Government Jobs?
Answer : Minimum VIII Standard (8th Class) Pass, 10th / SSLC / Matric / SSC / Xth std Pass, 10+2 / Higher Secondary / 12th class / XII std Pass, ITI, Diploma, B.E.. B.Tech, Degree (B.Sc., B.A., B. Com, BCA, BBA etc.) and Post Graduation (M.Sc., M.Com, M.A., M.Phil, MCA, MBA, M.E., M.Tech, Ph.D.)
Question : How can I apply for a government job in India?
Answer : There are a few process that candidates need to follow in order to apply for government jobs in India. The first step is to figure out which organization you want to work for. The next step is to find out if there are any open positions at that organization that match your qualifications. Once you have found a position that you are interested in, the next step is to fill out an application. The final step in the process is to attend an interview, if you are selected. After the interview, you will be notified if you have been chosen for the position.
Note
Jobbharati.com किसी भी प्रकार की नौकरी देने के लिए कॉल या मैसेज नहीं करता है और न ही पैसे लेता है, कृपया फर्जी कॉल के धोखाधड़ी से सावधान रहें।