आंध्र प्रदेश
मध्य प्रदेश
बिहार
छत्तीसगढ़
दिल्ली
अरुणाचल प्रदेश
असम
गोवा
गुजरात
हरियाणा
हिमाचल
जम्मू कश्मीर
झारखंड
कर्नाटका
केरल
महाराष्ट्र
मणिपुर
मेघालय
मिजोरम
नागालैंड
उड़ीसा
पंजाब
राजस्थान
सिक्किम
तमिलनाडु
तेलंगाना
उत्तराखंड
उत्तर प्रदेश
पश्चिम बंगाल
अंडमान-निकोबार
चंडीगढ़
दादरा-नगर-हवेली
दमन-दीव
लक्षद्वीप
पांडिचेरी
CSVTU Chhattisgarh Vacancy Apply Online 2023: Recruitment on various posts in Chhattisgarh Swami Vivekananda Technical University
CSVTU Chhattisgarh Vacancy Apply Online 2023: CSVTU Foundation for Rural Technology and Entrepreneurship (CSVTU-Forte), Section-8 Company of Chhattisgarh Swami Vivekanand Technical University (CSVTU), selection on key posts in Nidhi-Inclusive Technology Business Incubator (I-TBI) Inviting applications for, according to which you can apply online by 31/08/2023.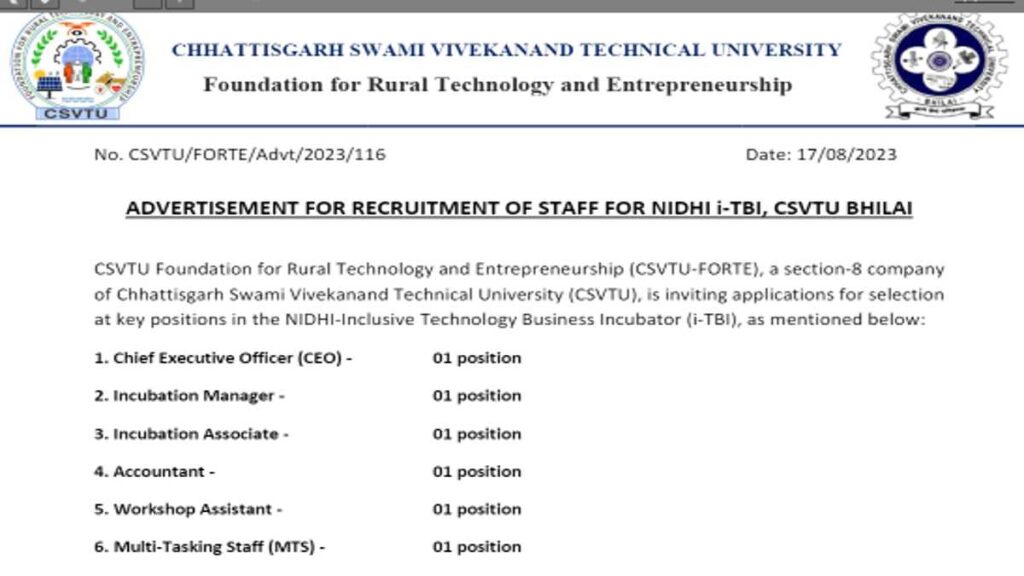 All the candidates are requested to go through the official notification thoroughly before applying for the CSVTU Chhattisgarh Vacancy Apply Online 2023 notification, only then submit the application to the department. Various details related to Rojgar Samachar like educational qualification, age limit, pay scale, application process and selection process can be found in this page. Latest information of JobBharti notifications is published daily on www.jobBharati.com. So visit www.jobBharati.com daily for Latest Rojgar Samachar.
Job bharti Department Name
 Chhattisgarh Swami Vivekananda Technical University CSVTU
Job bharti Post Name
Chief Executive Officer (CEO)

incubation manager

Incubation Associate

accountant

workshop assistant

Multi-Tasking Staff (MTS)
Job bharti Qualification
To apply, the applicant must have a Masters Degree / Graduate Degree / B Com / M Com / CA / ICWA / MBA / High School / Higher Secondary from a recognized institution / university.
Date Of Application
Starting date to apply  – 17-08-2023

Last date to apply  – 31-08-2023
How to Apply
On this Rojgar Samachar, the candidate will have to submit the application to the department through offline in the prescribed format.

Follow the steps given below to apply –

First of all visit the official website of the department ———————–.

DOWNLOAD THE ADVERTISEMENT BY CHOOSING RECRUITMENT OR CAREERS SECTION IN THE MENU BAR AND READ ALL THE INSTRUCTIONS CAREFULLY.

Now fill the ———————– application form carefully. Attach required documents, signature and photograph. Pay the application fee through as per the instructions.

Inspect the application form and make corrections in case of errors. After the final review, submit the application form to the department.

Keep a copy of ———————– Application Form with you for future response.

For accurate information about applying, inspect the departmental advertisement and submit the application to the department following the instructions.
| | |
| --- | --- |
| Download PDF | Link 1 | Link 2 | Link 3 |
| Official Website | Click Here |
| Online Apply | Link 1 | Link 2 | Link 3 |
| Join in Official Group | Telegram Group Join |
| Join in Official Group | Whatsapp Group Join |
How do I apply online for the CSVTU Chhattisgarh Vacancy Apply Online 2023?
You can usually apply online by visiting the official website of the recruiting organization, navigating to the "Career" or "Recruitment" section, and filling out the online application form.
What documents do I need to apply online?
Typically, you'll need your educational certificates, resume/CV, passport-sized photograph, and any other documents specified in the job advertisement.
Do I need to create an account to apply online?
Many organizations require you to create an account on their website before you can submit an online application. This helps them manage applications and communicate with applicants.
Can I edit my application after submission?
Some systems allow you to edit your application before the submission deadline. Check the instructions provided on the application portal.
Is there an application fee?
Some job applications come with an associated fee. Make sure to read the job advertisement to understand if there's a fee and how to pay it.
How will I know if my application is successfully submitted?
After submitting your application, you should receive a confirmation email or message on the application portal. Keep this as proof of submission.
Can I apply for multiple vacancies with the same account?
It depends on the organization's application system. Some systems allow you to apply for multiple vacancies using the same account, while others might require separate accounts.
What's the deadline for submitting the online application?
The job advertisement will specify the application deadline. Make sure to submit your application before the given date and time.
Note
Jobbharati.com किसी भी प्रकार की नौकरी देने के लिए कॉल या मैसेज नहीं करता है और न ही पैसे लेता है, कृपया फर्जी कॉल के धोखाधड़ी से सावधान रहें।