आंध्र प्रदेश
मध्य प्रदेश
बिहार
छत्तीसगढ़
दिल्ली
अरुणाचल प्रदेश
असम
गोवा
गुजरात
हरियाणा
हिमाचल
जम्मू कश्मीर
झारखंड
कर्नाटका
केरल
महाराष्ट्र
मणिपुर
मेघालय
मिजोरम
नागालैंड
उड़ीसा
पंजाब
राजस्थान
सिक्किम
तमिलनाडु
तेलंगाना
उत्तराखंड
उत्तर प्रदेश
पश्चिम बंगाल
अंडमान-निकोबार
चंडीगढ़
दादरा-नगर-हवेली
दमन-दीव
लक्षद्वीप
पांडिचेरी
DRDO Govt Job Bumper government job recruitment in Defense Research and Development Organization Department
DRDO Govt Job: Bumper government job recruitment in Defense Research and Development Organization Department
Applications have been invited for recruitment to various posts in this department. Complete information about the pay scale, age limit, educational qualification and application process of this recruitment is available below from where you can carefully review and apply for this recruitment.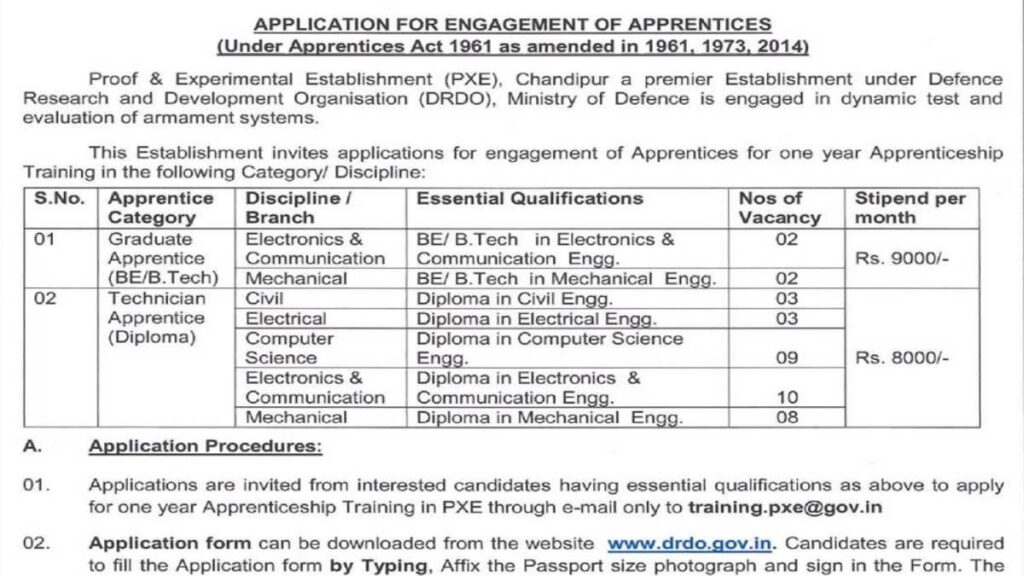 Proof and Experimental Establishment (PXE), Chandipur is a major establishment under the Defense Research and Development Organization (DRDO), Ministry of Defense engaged in dynamic test and evaluation of weapon systems. This establishment invites applications for appointment of trainees for one year apprenticeship training in the following category/discipline:
All the candidates are requested to go through the official notification thoroughly before applying for the DRDO Govt Job notification, only then submit the application to the department. Various details related to Rojgar Samachar like educational qualification, age limit, pay scale, application process and selection process can be found in this page. Latest information of JobBharti notifications is published daily on www.jobBharati.com. So visit www.jobBharati.com daily for Latest Rojgar Samachar.
DRDO Govt Job Bumper government job recruitment in Defense Research and Development Organization Department
DRDO Govt Job
for Overview
Organization
Defence Research and
Development Organisation
Post Name
APPRENTICES
No. of Post
Total Vacancy – 20+Posts
Salary (Pay Scale)
15600-30,500/-
Online Apply Form Last Date
Job Published Date: 20/10/2023
Last Date to Apply: 14/11/2023
Job Location
ALL INDIA
Registration Online
Online Apply
Category
Recruitment 2023
Job bharti Department Name
Defence Research and
Development Organisation
| Job bharti | Total No. |
| --- | --- |
| APPRENTICES | Total Vacancy – 20+ Posts |
Job bharti Qualification
Bachelor's degree / Diploma Please see the notification published for this job (Sarkari Naukri Notification) for accurate information.
DRDO Govt Job Eligibility
Check the Points below to know more about the DRDO Govt Job Eligibility.
First of all, applicants must have qualified for Graduation in any stream from a recognized University.
You must have passed Graduation with 50% or more marks and those in the final year cannot apply for this recruitment.
Moreover, you should check the DRDO Govt Job Age Limit which is 20-28 Years for General Category.
Apart from this, applicants must have Computer Knowledge and then only they can get selected further.
Job bharti Pay Scale
The pay scale will be
15600-30,500/- , please check the official notification of this government job for more information related to DRDO Govt Job Salary.
Job bharti Age Limit
The maximum age of the candidate
should be within 45 years.
Please see the published notification for relaxation in DRDO Govt Job Age Limit and other information.
Date Of Application
Job Published Date: 20/10/2023
Last Date to Apply: 14/11/2023
Required Documents for DRDO Govt Job
Photo and Signature (Light color background photo)
Education Certificate (10th/12th Pass)
Mobile Number
E-mail Address
Domicile Certificate
Caste Certificate
PAN Card and Aadhar Card (ID Proof)
How to Apply
On this Rojgar Samachar, the candidate will have to submit the application to the department through offline in the prescribed format.

Follow the steps given below to apply –

Selection Procedures: The Selection Board of PXE will scrutinize the applications and shortlist the candidates on the basis of percentage of marks obtained in the required qualification.

Shortlisted candidates will be called for written test/interview which will be held at PXE, Chandipur.

After the interview, selected candidates will be given joining letter through e-mail only.

Terms and Conditions for Selection of Apprentices: Candidates for Graduate Apprentice and Technician Apprentice (Diploma) are required to register on National Apprenticeship Training Scheme (NATS) portal (https://www.nats.education.gov.in) Non- Registered candidates/candidates with invalid registration number will be rejected.

Candidates who have passed their respective courses in the year 2019, 2020, 2021, 2022 and 2023 only are eligible to apply.

Candidates having Post Graduate Degree will not be considered for selection hence need not apply.

Only candidates who have fulfilled the required qualifications in regular mode are eligible to apply.

Graduate/Diploma holders who have training or on the job experience for a period of one year or more and possessing the required qualifications will not be considered for selection.

Reservation will be implemented as per the provisions of the Apprenticeship Act, 1961 and the Apprenticeship Rules 1992 as amended from time to time.

Candidates belonging to SC/ST/OBC/PWD/EWS are required to produce their caste certificate issued by the competent authority at the time of verification.

Selected candidates will have to execute a contract for a training period of one year as per the provision of the Apprenticeship Act, 1961 and the rules made thereunder.

Before applying, the candidate should ensure that he/she fulfills the eligibility criteria and other criteria as mentioned in the advertisement.

The offer of apprenticeship training does not confer any right of employment in DRDO.
Suppression of facts will lead to disqualification at any stage of the selection process.

PXE reserves the right to increase/decrease the number of vacancies for apprenticeship training.

Any canvassing or personal follow-up by and on behalf of any candidate intending to influence the selection process for the Apprenticeship will result in immediate cancellation of his/her candidature.

PXE reserves the right to withdraw/cancel the advertisement/selection process if circumstances so warrant without assigning any reason.

No accommodation/transport will be provided by PXE to the trainees during the training period.
No TA/DA will be provided for attending or participating in the interview.
All correspondence should be addressed through e-mail only to [email protected]
How do I find job bharti openings?
You can search for job bharti openings on various job boards, company websites, or through networking.
How do I create an effective resume?
Ensure your resume highlights your relevant skills, experience, and accomplishments.
What should I include in a cover letter?
A cover letter should introduce yourself, explain why you're a good fit for the job bharti, and express your enthusiasm.
How do I prepare for an interview?
Research the company, practice common interview questions, and prepare questions to ask the interviewer.
What should I wear to an interview?
Dress professionally, typically in business attire.
How do I follow up after an interview?
Send a thank-you email expressing your continued interest in the position.
How long does the hiring process take?
It varies, but it can take several weeks or even months.
What documents do I need for the application?
This typically includes a resume, cover letter, and any requested application forms.
What do I do if I get rejected?
Don't be discouraged; keep applying to other positions and seek feedback for improvement.
How do I negotiate salary and benefits?
Research salary ranges for the position and be prepared to discuss your expectations.
Note
Jobbharati.com किसी भी प्रकार की नौकरी देने के लिए कॉल या मैसेज नहीं करता है और न ही पैसे लेता है, कृपया फर्जी कॉल के धोखाधड़ी से सावधान रहें।