आंध्र प्रदेश
मध्य प्रदेश
बिहार
छत्तीसगढ़
दिल्ली
अरुणाचल प्रदेश
असम
गोवा
गुजरात
हरियाणा
हिमाचल
जम्मू कश्मीर
झारखंड
कर्नाटका
केरल
महाराष्ट्र
मणिपुर
मेघालय
मिजोरम
नागालैंड
उड़ीसा
पंजाब
राजस्थान
सिक्किम
तमिलनाडु
तेलंगाना
उत्तराखंड
उत्तर प्रदेश
पश्चिम बंगाल
अंडमान-निकोबार
चंडीगढ़
दादरा-नगर-हवेली
दमन-दीव
लक्षद्वीप
पांडिचेरी
FCI Recruitment 2023-24: Vacancies, Eligibility & Fee, Apply Online
All the candidates are requested to go through the official notification thoroughly before applying for the FCI Recruitment 2023-24 last date notification, only then submit the application to the department. Various details related to Rojgar Samachar like educational qualification, age limit, pay scale, application process and selection process can be found in this page. Latest information of JobBharti notifications is published daily on www.jobBharati.com. So visit www.jobBharati.com daily for Latest Rojgar Samachar.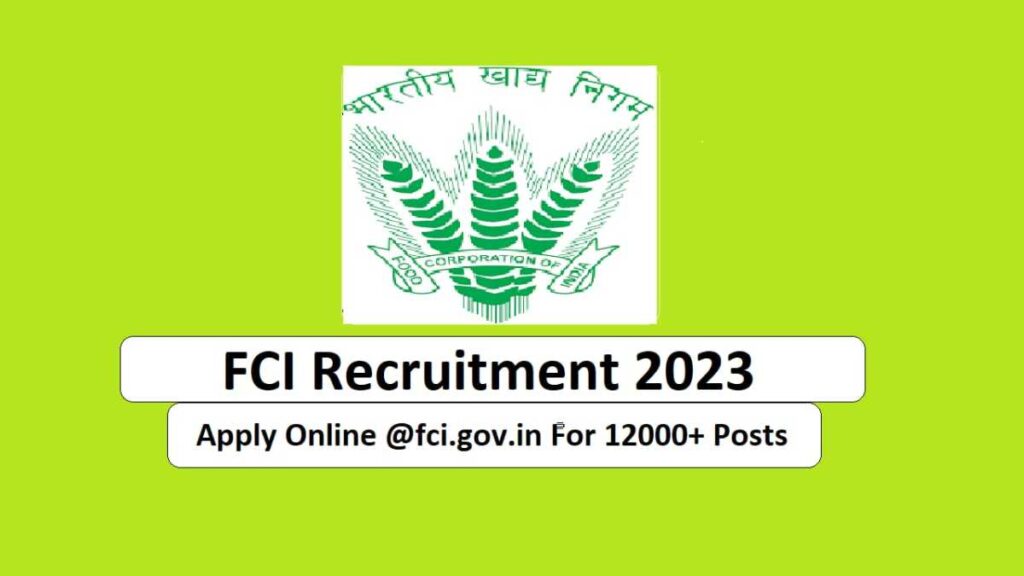 The Food Corporation of India (FCI), a crucial player in India's food security landscape, periodically invites applications from eligible candidates for various positions within the organization. The FCI recruitment process is conducted to identify and recruit talented individuals who can contribute to the organization's mission of ensuring efficient food grain procurement, storage, and distribution across the country.
This comprehensive guide delves into the details of FCI Recruitment 2023-24, providing a thorough overview of the available vacancies, eligibility criteria, application fees, and the online application process.
FCI Recruitment 2023: Vacancies, Eligibility & Fee, Apply Online
Eligibility Criteria
Application Fee
Online Application Process
Key Dates
Preparation Tips
Time Management Strategies
Note
Jobbharati.com किसी भी प्रकार की नौकरी देने के लिए कॉल या मैसेज नहीं करता है और न ही पैसे लेता है, कृपया फर्जी कॉल के धोखाधड़ी से सावधान रहें।