आंध्र प्रदेश
मध्य प्रदेश
बिहार
छत्तीसगढ़
दिल्ली
अरुणाचल प्रदेश
असम
गोवा
गुजरात
हरियाणा
हिमाचल
जम्मू कश्मीर
झारखंड
कर्नाटका
केरल
महाराष्ट्र
मणिपुर
मेघालय
मिजोरम
नागालैंड
उड़ीसा
पंजाब
राजस्थान
सिक्किम
तमिलनाडु
तेलंगाना
उत्तराखंड
उत्तर प्रदेश
पश्चिम बंगाल
अंडमान-निकोबार
चंडीगढ़
दादरा-नगर-हवेली
दमन-दीव
लक्षद्वीप
पांडिचेरी
Govt Assistant Grade 03 Job Bharti : Recruitment has come out in Sukma district, apply soon
Govt Assistant Grade 03 Job Bharti :- Chhattisgarh Government Law and Legislative (Election) Work Department's letter A / 122 / Est0 / 2023 / 1185 Raipur, Dated 31/03/2023 for 1-01 posts Assistant Grade 03 (Contract) working under Voter Photo Identity Card Dated 01/ Permission has been granted to hold the posts for a period of one year from 03/2023 to 29/02/2024.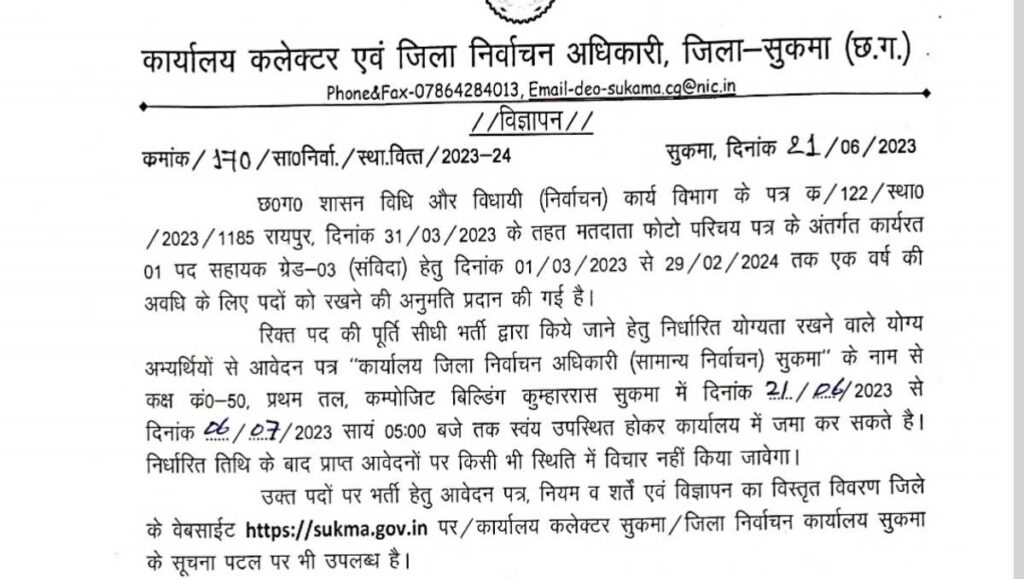 Application letter from the eligible candidates having the prescribed qualification to fill the vacant post by direct recruitment in the name of "Office District Election Officer (General Election) Sukma, Room No. 0-50, First Floor, Composite Building Kumharras Sukma dated 21/P6/2023 From 06/07/2023 to 05:00 pm, you can present yourself in the office and submit it.The applications received after the due date will not be considered under any circumstances.
Detailed description of application form, terms and conditions and advertisement for recruitment to the above posts on the district's website https://sukma.gov.in / Office Collector Sukma / District Election Office Sukma
All the candidates are requested to go through the official notification thoroughly before applying for the Govt Assistant Grade 03 Job Bharti notification, only then submit the application to the department. Various details related to Rojgar Samachar like educational qualification, age limit, pay scale, application process and selection process can be found in this page. Latest information of JobBharti notifications is published daily on www.jobBharati.com. So visit www.jobBharati.com daily for Latest Rojgar Samachar.
Job bharti Department Name
Chhattisgarh Government Law and Legislative (Election) Work Department's
Job bharti Qualification
Passed 10+2 examination from recognized Board of Education.
Ch. from recognized / unrecognized institution. Government, General Administration Department, Ministry Mahanadi Bhawan Naya Raipur as mentioned in circular no./F-1-3/2012/1-3 Naya Raipur, dated 06/11/2019) 01 year Diploma/Certificate in Computer.


For High School (10th) Marksheet / Certificate Higher Secondary School Marksheet, Saksham
Authority Ka Permanent Caste Certificate (Permanent Social Status Certificate) Residence Certificate.


Original and self-attested copies of necessary documents like computer qualification certificate etc.
Job bharti Age Limit
In the age limit, the age limit of the candidate should be minimum 18 years and maximum 35 years as on date 01.01.2023. According to circular no. F 3-2 / 2015 / 1-3 Atal Nagar Raipur dated 30.01.2019 of Government General Administration Department, Ministry Mahanadi Bhawan, Atal Nagar District Raipur, 05 years in the prescribed maximum age limit (35 years) for the local residents of Chhattisgarh Discount will be applicable. 05 years for SC, ST and OBC candidates, 10 years for women and relaxation of maximum age limit including all types of relaxation for all categories will not exceed 45 years. There will be additional relaxation in the age limit of 03 years to the Divyangjan candidate but this relaxation will be limited to the age limit of 45 years only. In the higher age limit Ch. The exemption will be eligible under the instructions issued by the General Administration Department from time to time. If relaxation in upper age limit is sought, relevant documents/certificates must be produced at the time of document verification.
Will
Date Of Application
last date 06-07-2023
How to Apply
On this Rojgar Samachar, the candidate will have to submit the application to the department through offline in the prescribed format.

Follow the steps given below to apply –

First of all visit the official website of the department https://sukma.gov.in/.

DOWNLOAD THE ADVERTISEMENT BY CHOOSING RECRUITMENT OR CAREERS SECTION IN THE MENU BAR AND READ ALL THE INSTRUCTIONS CAREFULLY.

Now fill the Govt Assistant Grade 03 Job Bharti application form carefully. Attach required documents, signature and photograph. Pay the application fee through as per the instructions.

Inspect the application form and make corrections in case of errors. After the final review, submit the application form to the department.

Keep a copy of Govt Assistant Grade 03 Job Bharti Application Form with you for future response.

For accurate information about applying, inspect the departmental advertisement and submit the application to the department following the instructions.
Note
Jobbharati.com किसी भी प्रकार की नौकरी देने के लिए कॉल या मैसेज नहीं करता है और न ही पैसे लेता है, कृपया फर्जी कॉल के धोखाधड़ी से सावधान रहें।