आंध्र प्रदेश
मध्य प्रदेश
बिहार
छत्तीसगढ़
दिल्ली
अरुणाचल प्रदेश
असम
गोवा
गुजरात
हरियाणा
हिमाचल
जम्मू कश्मीर
झारखंड
कर्नाटका
केरल
महाराष्ट्र
मणिपुर
मेघालय
मिजोरम
नागालैंड
उड़ीसा
पंजाब
राजस्थान
सिक्किम
तमिलनाडु
तेलंगाना
उत्तराखंड
उत्तर प्रदेश
पश्चिम बंगाल
अंडमान-निकोबार
चंडीगढ़
दादरा-नगर-हवेली
दमन-दीव
लक्षद्वीप
पांडिचेरी
CG Vyapam Direct Recruitment 2023 for 188 Hand Pump Technician Posts
Hand Pump Technician Posts has released a notification for direct recruitment of 188 Hand Pump Technicians in 2023. This is a great opportunity for job seekers in the CG government sector. Stay updated with upcoming vacancies in CG Vyapam for 2023 and grab the chance to apply for new job openings. Keep an eye out for the latest updates on new job vacancies in CG in 2023.
Attention all unemployed individuals who have successfully completed their 12th grade education! If you are eagerly seeking employment in the government sector, we have fantastic news for you. The Chhattisgarh Public Health Engineering Department has granted permission for the recruitment of 188 Hand Pump Technicians through CG Vyapam Direct Recruitment 2023. To apply for these positions, simply submit your application online based on the comprehensive guidelines issued by Vyapam. Hurry up and seize this incredible opportunity to land a government job in Chhattisgarh!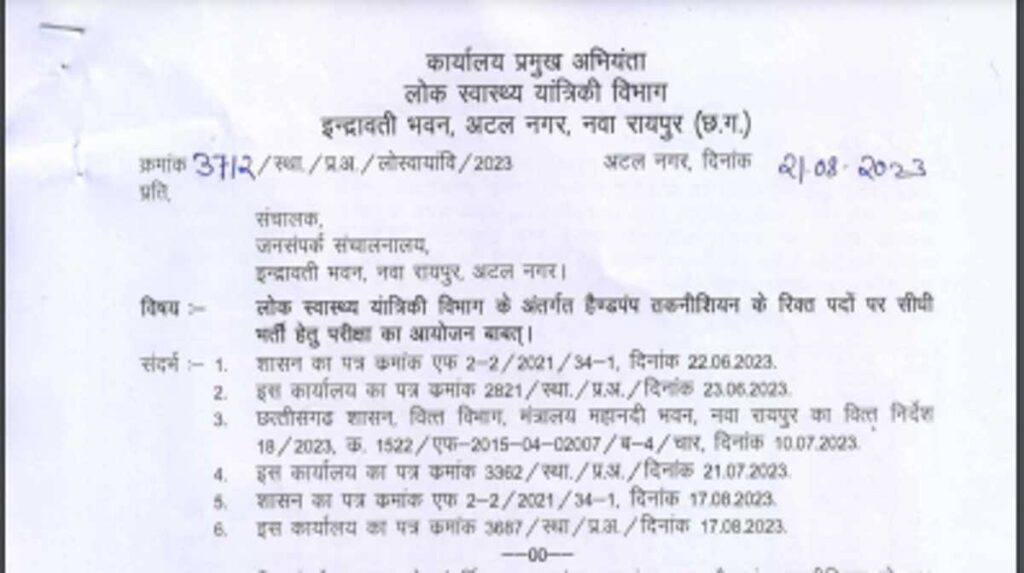 All the candidates are requested to go through the official notification thoroughly before applying for the Hand Pump Technician Posts notification, only then submit the application to the department. Various details related to Rojgar Samachar like educational qualification, age limit, pay scale, application process and selection process can be found in this page. Latest information of JobBharti notifications is published daily on www.jobBharati.com. So visit www.jobBharati.com daily for Latest Rojgar Samachar.
CG Vyapam Direct Recruitment 2023 for 188 Hand Pump Technician Posts
Job bharti Department Name
Public Health Engineering Department
Job bharti Post Name
Hand Pump Technician (Class III)
Job bharti Qualification
12th pass and ITI.
For more details see departmental advertisement.

Job bharti Pay Scale
Pay Scale – Candidates selected in the posts of Hand Pump Technician will get Rs.22400 – 71200 under Pay Scale Level 5.
And all allowances given as per rules.
Job bharti Age Limit
The prescribed age limit of the candidates applying for the said posts is as on January 01, 2023.
Should be minimum 18 years and maximum 35 years.
Relaxation in age will be given priority.
Date Of Application
Starting date of online application – from 25 August 2023

Last date for online application – 10 September 2023.

Error Correction – 11 September to 13 September 2023

Exam date – 24 September (probable)

Exam Time – Morning

Exam Center – 05 Divisional Headquarters
How to Apply
On this Rojgar Samachar, the candidate will have to submit the application to the department through offline in the prescribed format.

Follow the steps given below to apply –

First of all visit the official website of the department ———————–.

DOWNLOAD THE ADVERTISEMENT BY CHOOSING RECRUITMENT OR CAREERS SECTION IN THE MENU BAR AND READ ALL THE INSTRUCTIONS CAREFULLY.

Now fill the Hand Pump Technician Posts application form carefully. Attach required documents, signature and photograph. Pay the application fee through as per the instructions.

Inspect the application form and make corrections in case of errors. After the final review, submit the application form to the department.

Keep a copy of Hand Pump Technician Posts Application Form with you for future response.

For accurate information about applying, inspect the departmental advertisement and submit the application to the department following the instructions.
| Category | Job bharti Application fee |
| --- | --- |
| UR | – |
| OBC | – |
| SC | – |
| ST | – |
| EWS | – |
| PWD | – |
| Women | – |
| | |
| --- | --- |
| Download PDF | Link 1 | Link 2 | Link 3 |
| Official Website | Click Here |
| Online Apply | Link 1 | Link 2 | Link 3 |
| Join in Official Group | Telegram Group Join |
| Join in Official Group | Whatsapp Group Join |
Official Website:
Visit the official website of CG Vyapam or Chhattisgarh Professional Examination Board. They usually provide detailed information about ongoing recruitments, including eligibility criteria, application process, important dates, and FAQs.
Contact Official Sources:
If the information is not available on the website, consider reaching out to the official contact channels provided on the website. This could include email addresses, phone numbers, or physical addresses of relevant departments.
Local News and Publications:
Check local newspapers, news websites, and government publications for any updates or announcements related to the CG Vyapam Direct Recruitment 2023 for Hand Pump Technician Posts.
Social Media:
Follow the official social media accounts of CG Vyapam or related government departments for updates and announcements.
Public Service Centers:
Visit local public service centers or government offices in Chhattisgarh to inquire about the recruitment process and obtain any available information.
Note
Jobbharati.com किसी भी प्रकार की नौकरी देने के लिए कॉल या मैसेज नहीं करता है और न ही पैसे लेता है, कृपया फर्जी कॉल के धोखाधड़ी से सावधान रहें।