आंध्र प्रदेश
मध्य प्रदेश
बिहार
छत्तीसगढ़
दिल्ली
अरुणाचल प्रदेश
असम
गोवा
गुजरात
हरियाणा
हिमाचल
जम्मू कश्मीर
झारखंड
कर्नाटका
केरल
महाराष्ट्र
मणिपुर
मेघालय
मिजोरम
नागालैंड
उड़ीसा
पंजाब
राजस्थान
सिक्किम
तमिलनाडु
तेलंगाना
उत्तराखंड
उत्तर प्रदेश
पश्चिम बंगाल
अंडमान-निकोबार
चंडीगढ़
दादरा-नगर-हवेली
दमन-दीव
लक्षद्वीप
पांडिचेरी
HSC Science Supplementary exam 2023 on gseb.org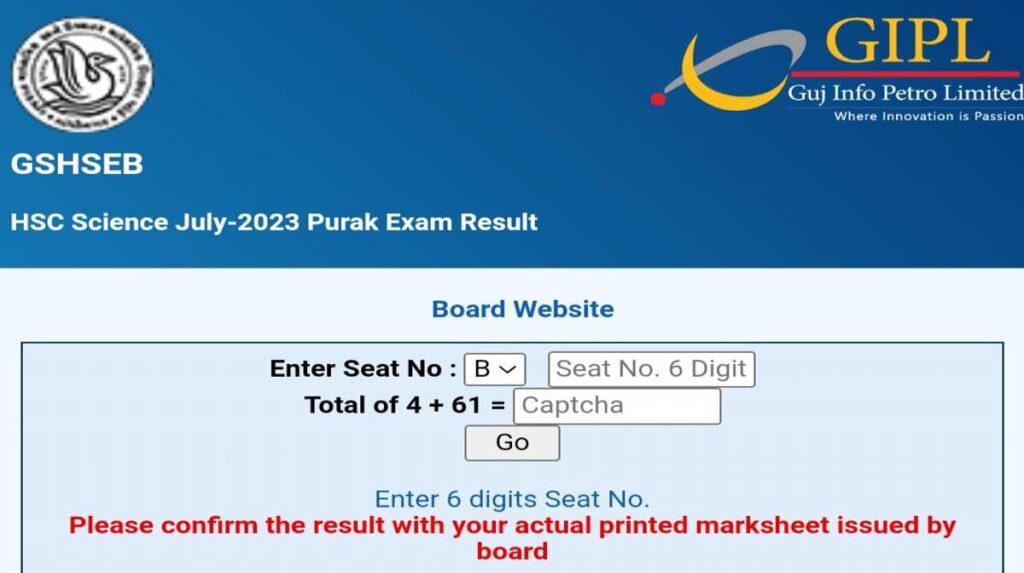 Gujarat Secondary and Higher Secondary Education Board (GSHSEB or GSEB) has announced results of HSC or Class 12 Supplementary exam results for Science stream.
To check the result of the Gujarat Secondary and Higher Secondary Education Board (GSEB) for exams such as the 10th (SSC) and 12th (HSC) standard, you can follow these general steps:
Official Website:

Visit the official website of the Gujarat Secondary and Higher Secondary Education Board. The website URL might be something like www.gseb.org or www.gsebeservice.com. Make sure to check for the most up-to-date website through a search engine.
Results Section:

Look for a section on the website dedicated to examination results. Often, the website will have a prominent link or button labeled "Results" or "Exam Results."
Select Examination:

Once you reach the results section, you may find a list of recent examinations. Choose the examination you appeared for, such as "SSC" for 10th standard or "HSC" for 12th standard.
Enter Details:

You will likely be asked to provide some information to access your result. Commonly, you'll need to enter your seat number or roll number. Ensure that you enter the correct information to retrieve your result.
Submit and View Result:

After entering your details, submit the form. The website will process your information and display your result. You should be able to view your subject-wise marks and overall grade or percentage.
Print or Save:

Once the result is displayed, it is advisable to take a printout or save a digital copy for future reference.
Other Methods:

In addition to the online method, GSEB might also release results through SMS or in schools. Keep an eye on local news or official announcements for alternative result checking methods.
Note
Jobbharati.com किसी भी प्रकार की नौकरी देने के लिए कॉल या मैसेज नहीं करता है और न ही पैसे लेता है, कृपया फर्जी कॉल के धोखाधड़ी से सावधान रहें।