आंध्र प्रदेश
मध्य प्रदेश
बिहार
छत्तीसगढ़
दिल्ली
अरुणाचल प्रदेश
असम
गोवा
गुजरात
हरियाणा
हिमाचल
जम्मू कश्मीर
झारखंड
कर्नाटका
केरल
महाराष्ट्र
मणिपुर
मेघालय
मिजोरम
नागालैंड
उड़ीसा
पंजाब
राजस्थान
सिक्किम
तमिलनाडु
तेलंगाना
उत्तराखंड
उत्तर प्रदेश
पश्चिम बंगाल
अंडमान-निकोबार
चंडीगढ़
दादरा-नगर-हवेली
दमन-दीव
लक्षद्वीप
पांडिचेरी
JPMER Nursing Officer Recruitment 2022 : 433 Post JIPMER Puducherry Nursing Officer
Short Information : Jawaharlal Institute Of Postgraduate Medical Education & Research (JIPMER) Nursing Officer Recruitment 2022 has released the Detailed Notification for the NO recruitment of 243 posts. Any candidate who is interested in this recruitment and fulfills the eligibility can apply online from 07 November 2022 to 01 December 2022. For eligibility, age limit,pay scale, selection procedure and all other information in recruitment, read the Nursing Officer notification issued by JIPMER Latest Recruitment 2022 and then apply.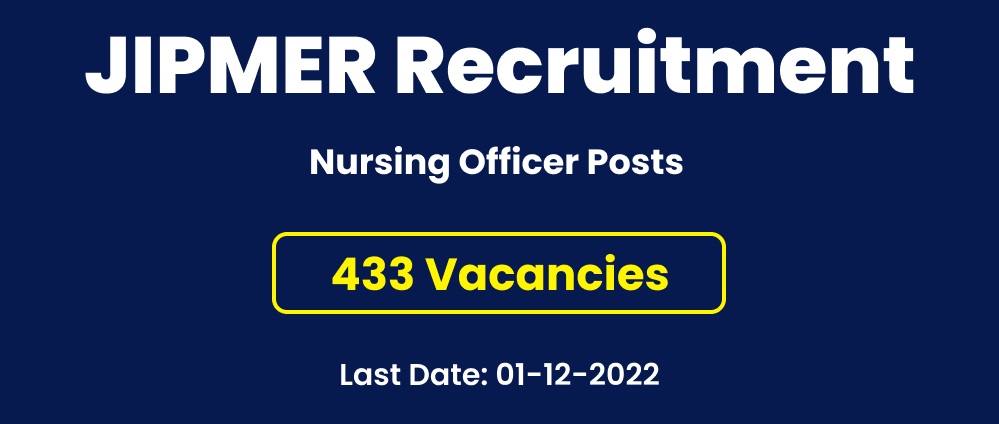 Jawaharlal Institute Of Postgraduate Medical Education & Research (JIPMER)JIPMER Puducherry Nursing Officer Recruitment 2022JIPMER Nursing Officer Vacancy 2022 – Short Details of NotificationWWW.JOBBHARATI.COM
Application FeeGeneral / OBC / EWS : 1500/-SC / ST : 1200/-
Important Dates
Application Begin : 07/11/2022Last Date for Apply Online : 01/12/2022Pay Exam Fee Last Date: 01/12/2022Exam Date : 18/12/2022Admit Card Available : 10/12/2022
JIPMER Nursing Officer Recruitment 2022 Age Limit as on 01/12/2022Minimum Age : 18 Years.Maximum Age : 35 Years.
JIPMER Nursing Officer Exam 2022 Vacancy Details Total : 433 PostUR : 175 | OBC : 116 | EWS : 43 | SC : 66 | ST : 33 | Total Post : 433
Post NameTotal Post
Nursing Officer433
How to Fill JIPMER Nursing Officer Recruitment Online Form 2022
JIPMER Are Released Nursing Officer Recruitment Exam 2022 Candidate Can Apply Between 07/11/2022 to 01/12/2022
JIPMER Photo Instruction : The photograph must be taken with a placard, along with the name of the candidate and the date of the photograph should also be written, for more details read page number 13 of the nursing officer advertisement.
Candidate Read the Notification Before Apply the Recruitment Application Form in JIPMER Recruitment 2022.
Kindly Check and Collect the All Document – Eligibility, ID Proof, Address Details, Basic Details.
Kindly Ready Scan Document Related to Recruitment Form – Photo, Sign, ID Proof, Etc.
Before Submit the Application Form Must Check the Preview and All Column Carefully.
If Candidate Required to Paying the Application Fee Must Submit. If You have Not the Required Application Fees Your Form is Not Completed.
Take A Print Out of Final Submitted Form.
Interested Candidates Can Read the Full JIPMER Nursing Officer Notification Before Apply Online.
Some Useful Important Links
Apply Online Registration | Login
Download Notification Click Here
JIPMER Official Website Click Here
JPMER Nursing Officer Recruitment 2022 : 433 Post JIPMER Puducherry Nursing Officer
Note
Jobbharati.com किसी भी प्रकार की नौकरी देने के लिए कॉल या मैसेज नहीं करता है और न ही पैसे लेता है, कृपया फर्जी कॉल के धोखाधड़ी से सावधान रहें।