आंध्र प्रदेश
मध्य प्रदेश
बिहार
छत्तीसगढ़
दिल्ली
अरुणाचल प्रदेश
असम
गोवा
गुजरात
हरियाणा
हिमाचल
जम्मू कश्मीर
झारखंड
कर्नाटका
केरल
महाराष्ट्र
मणिपुर
मेघालय
मिजोरम
नागालैंड
उड़ीसा
पंजाब
राजस्थान
सिक्किम
तमिलनाडु
तेलंगाना
उत्तराखंड
उत्तर प्रदेश
पश्चिम बंगाल
अंडमान-निकोबार
चंडीगढ़
दादरा-नगर-हवेली
दमन-दीव
लक्षद्वीप
पांडिचेरी
OPSC Job Vacancy 2023 : Recruitment in large numbers on Assistant Director in Odisha, apply soon
ODISHA PUBLIC SERVICE COMMISSION
OPSC Job Vacancy 2023 : Recruitment to the posts of Assistant Director of Textiles, Class-II, Group-B of Odisha Textiles & Sericulture Service (Textile Cadre) under Handlooms, Textiles & Handicrafts Department.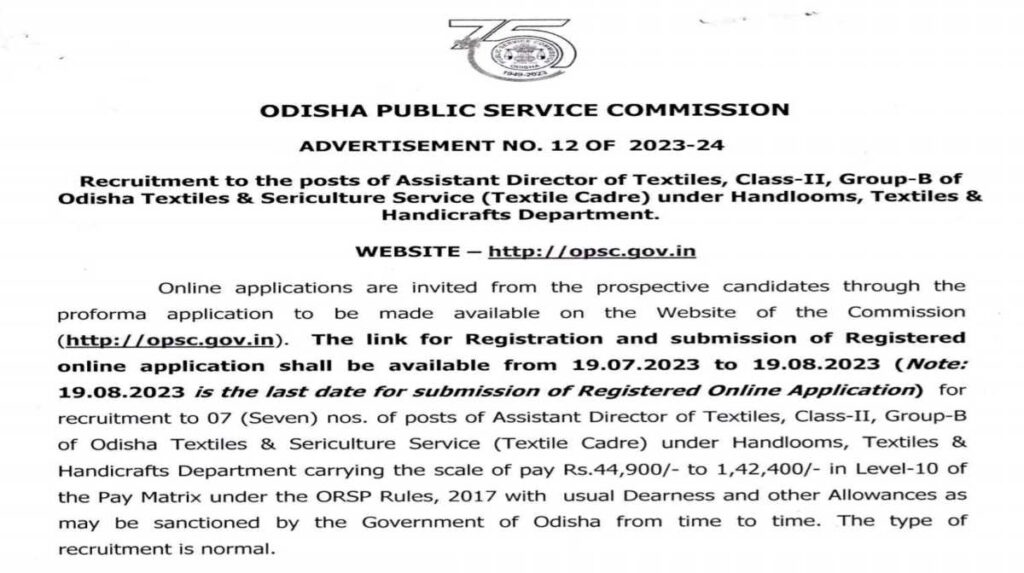 All the candidates are requested to go through the official notification thoroughly before applying for the OPSC Job Vacancy 2023 notification, only then submit the application to the department. Various details related to Rojgar Samachar like educational qualification, age limit, pay scale, application process and selection process can be found in this page. Latest information of JobBharti notifications is published daily on www.jobBharati.com. So visit www.jobBharati.com daily for Latest Rojgar Samachar.
Job bharti Department Name
ODISHA PUBLIC SERVICE COMMISSION
Job bharti Post Name
Assistant Director of Textiles
Job bharti Qualification
A candidate must possess:
(1) Degree in Textile Technology, Spinning and Weaving from a recognised Institution;
OR
(ii) Degree in Textile Chemistry;
OR
(iii) Diploma in Textile Technology/ Handloom Technology from a recognised Institution with minimum practical experience of three years in the spinning/weaving Department of a Textile Mill or Handloom Industry or under the State Government.
Job bharti Pay Scale
Textiles & Handicrafts Department carrying the scale of pay Rs.44,900/- to 1,42,400/- in Level-10 of the Pay Matrix
Job bharti Age Limit
A candidate shall not ordinarily be below 21 (twenty one) years of age on the 1st day of August, 2023 and above 38 (thirty eight) years of age as on the 1st day of August, 2022 i.e. he/she must have been born not earlier than 2nd August, 1984 and not later than 1 August, 2002.


Provided that the maximum age limit shall be relaxable by 5 (five) years in case of candidates belonging to the Socially and Educationally Backward Classes, Scheduled Castes, Scheduled Tribes, Women and Ex-Serviceman and 10 years for Persons with Disabilities having a permanent disability of 40% and more and coming under the categories of HI (with suitable aid) (having good speech with suitable aid), OA, OL, BL (MNR).


Persons with Disabilities belonging to SEBC/SC/ST categories shall be eligible for cumulative age relaxation benefit of 15(fifteen) years. The upper age limit will be 50(fifty) years in case of in-service candidates belonging
to Textiles & Sericulture Branches under the Director of Textiles, Odisha. Provided that, a candidate who comes under more than one category mentioned
above, he/she will be eligible for only one age relaxation benefit, which shall be considered most beneficial to him/her. SAVE AS PROVIDED ABOVE, THE AGE LIMITS PRESCRIBED CAN IN NO CASE BE
RELAXED.


Date of Birth entered in the High School Certificate or equivalent certificate
issued by the concerned Board/Council will only be accepted by the Commission.
Date Of Application
online application shall be available from 19.07.2023 to 19.08.2023 (Note: 19.08.2023 is the last date for submission of Registered Online Application)
How to Apply
On this Rojgar Samachar, the candidate will have to submit the application to the department through offline in the prescribed format.

Follow the steps given below to apply –

First of all visit the official website of the department https://www.opsc.gov.in/.

DOWNLOAD THE ADVERTISEMENT BY CHOOSING RECRUITMENT OR CAREERS SECTION IN THE MENU BAR AND READ ALL THE INSTRUCTIONS CAREFULLY.

Now fill the OPSC Job Vacancy 2023 application form carefully. Attach required documents, signature and photograph. Pay the application fee through as per the instructions.

Inspect the application form and make corrections in case of errors. After the final review, submit the application form to the department.

Keep a copy of OPSC Job Vacancy 2023 Application Form with you for future response.

For accurate information about applying, inspect the departmental advertisement and submit the application to the department following the instructions.
OPSC Job Vacancy 2023 stands for the Odisha Public Service Commission. It is a state-level government organization responsible for conducting various recruitment examinations and selecting suitable candidates for civil services and other government posts in the state of Odisha, India.
How can I stay updated about OPSC Job Vacancy 2023 vacancies in 2023?
To stay updated about OPSC Job Vacancy 2023, you can regularly visit the official website of OPSC (www.opsc.gov.in). The website provides detailed information about the latest job openings, notifications, application procedures, and examination schedules. Additionally, you can also follow official social media accounts, subscribe to email notifications, or check local newspapers for advertisements regarding OPSC job vacancies.
What are the eligibility criteria to apply for OPSC Job Vacancy 2023?
The eligibility criteria vary depending on the specific job position. Generally, candidates must possess a minimum educational qualification such as a bachelor's degree from a recognized university or institution. Age limits, experience requirements (if applicable), and other specific qualifications will be mentioned in the respective job notifications issued by OPSC.
To apply for OPSC Job Vacancy 2023, you need to visit the official website of OPSC and look for the specific job notification you are interested in. Read the notification carefully to understand the eligibility criteria, application process, and important dates. Then, follow the instructions provided in the notification to complete the online application form. Pay the application fee (if applicable) and submit the form before the deadline.
The selection process for OPSC Job Vacancy 2023 typically involves a preliminary examination, a main examination, and an interview. However, the selection process may vary depending on the job position. The preliminary examination is usually an objective-type test, while the main examination is descriptive in nature. Candidates who qualify in the main examination are called for the interview round. The final selection is based on the candidate's performance in all the stages of the selection process.
How can I prepare for OPSC job exams?
To prepare for OPSC job exams, you can follow these steps:
Understand the exam pattern and syllabus.
Create a study plan and schedule your preparation time.
Collect relevant study materials, including books, previous years' question papers, and online resources.
Focus on the core subjects and topics mentioned in the syllabus.
Practice solving previous years' question papers and mock tests to improve your time management and problem-solving skills.
Stay updated with current affairs and general knowledge.
Seek guidance from experienced mentors or join coaching institutes if needed.
Yes, OPSC follows the reservation policy as per the norms set by the Government of Odisha. Reservation benefits are provided to candidates belonging to scheduled castes (SC), scheduled tribes (ST), socially and educationally backward classes (SEBC), and other eligible categories as specified by the government. The reservation percentage and eligibility criteria may vary for different job positions.
Note
Jobbharati.com किसी भी प्रकार की नौकरी देने के लिए कॉल या मैसेज नहीं करता है और न ही पैसे लेता है, कृपया फर्जी कॉल के धोखाधड़ी से सावधान रहें।