आंध्र प्रदेश
मध्य प्रदेश
बिहार
छत्तीसगढ़
दिल्ली
अरुणाचल प्रदेश
असम
गोवा
गुजरात
हरियाणा
हिमाचल
जम्मू कश्मीर
झारखंड
कर्नाटका
केरल
महाराष्ट्र
मणिपुर
मेघालय
मिजोरम
नागालैंड
उड़ीसा
पंजाब
राजस्थान
सिक्किम
तमिलनाडु
तेलंगाना
उत्तराखंड
उत्तर प्रदेश
पश्चिम बंगाल
अंडमान-निकोबार
चंडीगढ़
दादरा-नगर-हवेली
दमन-दीव
लक्षद्वीप
पांडिचेरी
Panchayat Vibhag Bharti Bumper government job recruitment for the posts of Program Officer in District Panchayat
Panchayat Vibhag Bharti Under the Mahatma Gandhi National Rural Employment Guarantee Scheme, applications have been invited for recruitment to various posts in the district department, pay scale, age limit and educational qualification and complete information about the process of applying for this recruitment is available below, from where you can see it carefully. can apply for this recruitment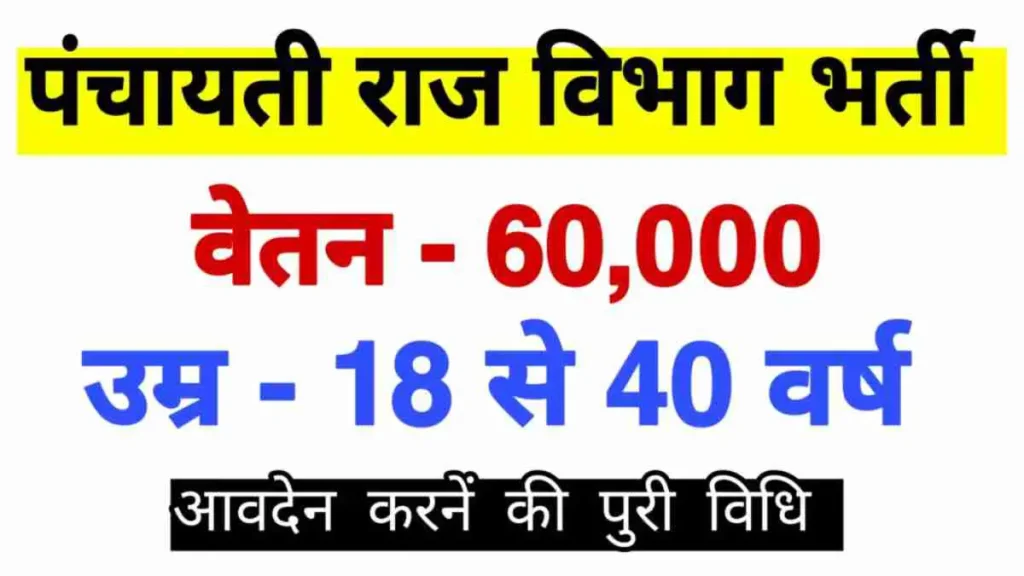 | District under Mahatma Gandhi National Rural Employment Guarantee Scheme | recruitment information |
| --- | --- |
| designation | program officer |
| number of post | 01+ |
| Age Range | 18 to 35 years |
| Ability | MBA, BE(civil), PG |
| Salary | 15,900-31,500 |
| Apply Date | 26/07/2023 to 18/08/2023 |
| Apply Mode | Offline |
| Download PDF | Link 1 | Link 2 | Link 3 |
| Apply Link | Link 1 | Link 2 | Link 3 |
Panchayat Vibhag Bharti refers to the recruitment process conducted by the Panchayat Department of a state or region in India to fill various job vacancies within the rural local governance system. These vacancies could be for positions such as Panchayat Secretary, Village Development Officer, Gram Sevak, and other roles related to rural administration.
You can stay informed about upcoming Panchayat Vibhag Bharti by regularly visiting the official website of the respective Panchayat Department, checking local newspapers, and following official social media accounts. Additionally, subscribing to job portals and employment news websites can also provide you with notifications.
Eligibility criteria can vary based on the specific position. Common eligibility factors include educational qualifications, age limits, and sometimes experience. To know the eligibility criteria in detail, read the official notification of the specific recruitment.
To apply for Panchayat Vibhag Bharti, you typically need to visit the official website of the Panchayat Department conducting the recruitment. Look for the recruitment section, find the relevant advertisement/notification, and follow the instructions to fill out the application form online. Some recruitments might also require submission of physical application forms.
Yes, there is often an application fee associated with Panchayat Vibhag Bharti. The fee amount and details will be mentioned in the official recruitment notification. Certain categories (like SC/ST/PWD) might be eligible for fee exemptions or concessions.
6. How is the selection process conducted?
The selection process generally involves various stages, such as written exams, skill tests, interviews, and document verification. The specific stages and their weights can vary based on the position. Refer to the official notification for detailed information.
7. Can I apply for multiple positions in the same Panchayat Vibhag Bharti?
Yes, you can often apply for multiple positions as long as you meet the eligibility criteria for each. However, you might need to submit separate application forms and pay separate application fees for each position.
8. Are candidates from other states eligible for Panchayat Vibhag Bharti?
Eligibility for candidates from other states depends on the recruitment rules set by the Panchayat Department. Some recruitments might be open to candidates from other states, while others could have domicile or residency requirements.
9. How can I download the admit card for the exam?
Admit cards for the exams or other selection stages will be available on the official website of the Panchayat Department. You'll likely need to log in using the credentials you used during the application process to download the admit card.
10. What documents are required during document verification?
Documents required during document verification usually include educational certificates, age proof, caste/category certificates (if applicable), residence proof, and any other documents mentioned in the official notification.
Note
Jobbharati.com किसी भी प्रकार की नौकरी देने के लिए कॉल या मैसेज नहीं करता है और न ही पैसे लेता है, कृपया फर्जी कॉल के धोखाधड़ी से सावधान रहें।