आंध्र प्रदेश
मध्य प्रदेश
बिहार
छत्तीसगढ़
दिल्ली
अरुणाचल प्रदेश
असम
गोवा
गुजरात
हरियाणा
हिमाचल
जम्मू कश्मीर
झारखंड
कर्नाटका
केरल
महाराष्ट्र
मणिपुर
मेघालय
मिजोरम
नागालैंड
उड़ीसा
पंजाब
राजस्थान
सिक्किम
तमिलनाडु
तेलंगाना
उत्तराखंड
उत्तर प्रदेश
पश्चिम बंगाल
अंडमान-निकोबार
चंडीगढ़
दादरा-नगर-हवेली
दमन-दीव
लक्षद्वीप
पांडिचेरी
Rajasthan PTET Counselling 2023 allotment result today on ptetggtu.com
Rajasthan PTET Counselling 2023 :- Govind Guru Tribal University Banswara will announce seat allotment results of the Rajasthan Pre-Teacher Education Test(PTET) 2023 today, July 23.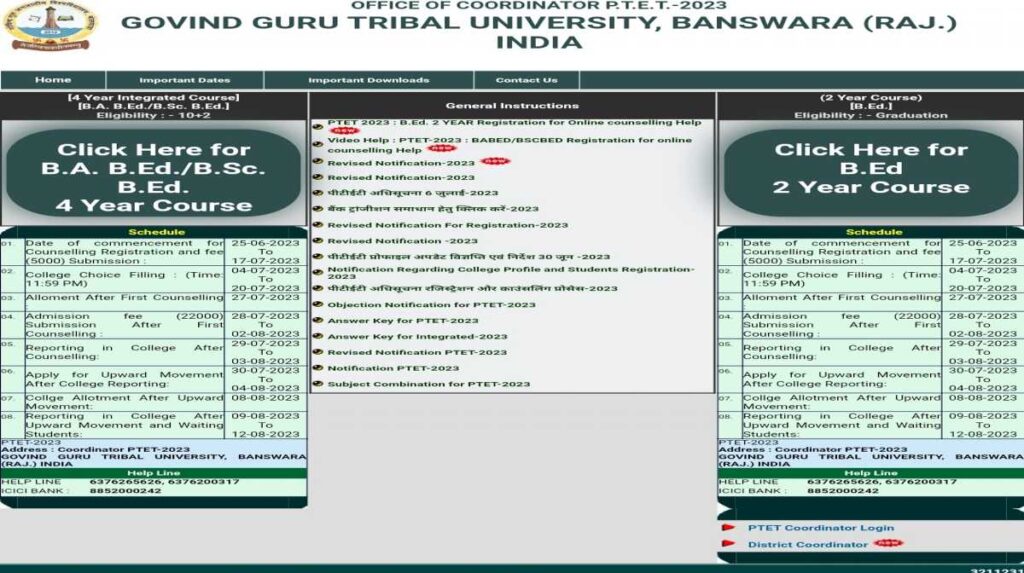 Rajasthan PTET Counselling 2023 allotment result today on ptetggtu.com
Candidates who have participated in the counseling process for four year integrated BA-B.Ed or B.Sc-B.Ed or two year B.Ed course can check it on the official website after it is released.
As per the schedule, the selected candidates will have to deposit an admission fee of ₹22,000 for both the courses between July 24 and 28.
They can report at the allotted institutes after counseling between July 25 to 29.
Rajasthan PTET Counseling 2023 started from 25th June.
How to check PTET 2023 allotment result
Visit www.ptetggtu.com
Now, open the link for 4th Year or 2 Year B.Ed Allotment Result.
If required, enter your credentials and login.
Check and Download Result.
Take a printout of the page for future reference.
Rajasthan PTET Counseling 2023, PTET Allotment Result 2023
Note
Jobbharati.com किसी भी प्रकार की नौकरी देने के लिए कॉल या मैसेज नहीं करता है और न ही पैसे लेता है, कृपया फर्जी कॉल के धोखाधड़ी से सावधान रहें।