आंध्र प्रदेश
मध्य प्रदेश
बिहार
छत्तीसगढ़
दिल्ली
अरुणाचल प्रदेश
असम
गोवा
गुजरात
हरियाणा
हिमाचल
जम्मू कश्मीर
झारखंड
कर्नाटका
केरल
महाराष्ट्र
मणिपुर
मेघालय
मिजोरम
नागालैंड
उड़ीसा
पंजाब
राजस्थान
सिक्किम
तमिलनाडु
तेलंगाना
उत्तराखंड
उत्तर प्रदेश
पश्चिम बंगाल
अंडमान-निकोबार
चंडीगढ़
दादरा-नगर-हवेली
दमन-दीव
लक्षद्वीप
पांडिचेरी
TS EAMCET Phase 2 counselling registration begins at tseamcet.nic.in
The counselling registration procedure for TS EAMCET Phase 2 counselling has begun today, July 24. The TS EAMCET website, tseamcetd.nic.in, is where applicants can submit their applications for the counselling phase.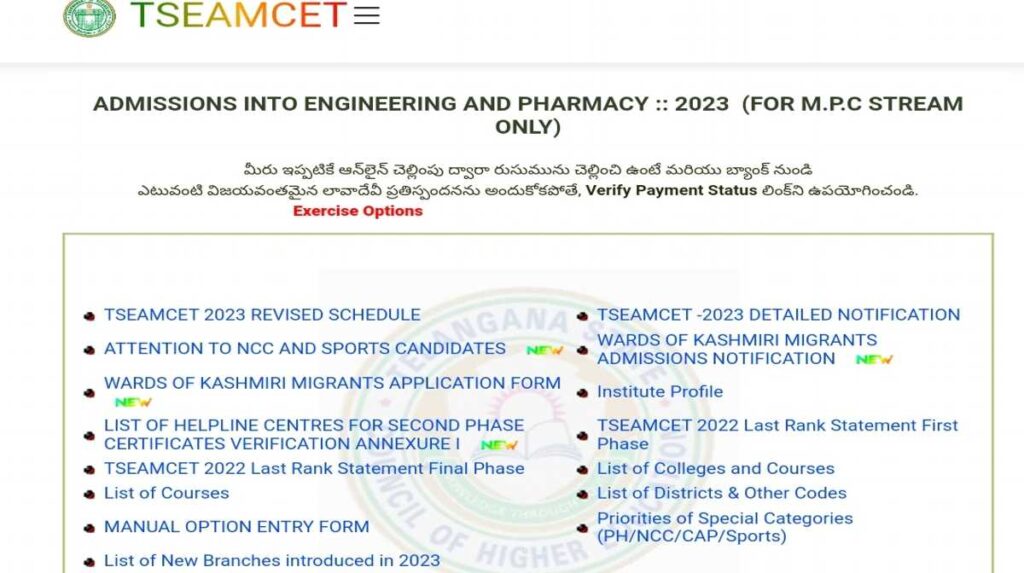 The last date to apply for the counselling round, make payment of processing fees, slot booking for selection of help line centres, and date and time to attend for certification verification can be done till July 25, 2023. The provisional allotment list will be released by July 31.
According to the official schedule, candidates whose slots have already been reserved will have their certificates verified on July 26, 2023. Following certificate verification, candidates can exercise their options between July 24 to July 27, 2023. The provisional allotment of seats will be done on July 31, 2023.
Direct link to apply for TS EAMCET 2023 
Know how to apply
Visit the official site of TS EAMCET at tseamcet.nic.in.
On the homepage, click on the TS EAMCET 2023 phase 2 counselling
Key in your login details and submit
Fill in the application form and make the payment of application fees.
Upload all the required documents
Download the page and keep a hard copy of the same for further need.
Note
Jobbharati.com किसी भी प्रकार की नौकरी देने के लिए कॉल या मैसेज नहीं करता है और न ही पैसे लेता है, कृपया फर्जी कॉल के धोखाधड़ी से सावधान रहें।