आंध्र प्रदेश
मध्य प्रदेश
बिहार
छत्तीसगढ़
दिल्ली
अरुणाचल प्रदेश
असम
गोवा
गुजरात
हरियाणा
हिमाचल
जम्मू कश्मीर
झारखंड
कर्नाटका
केरल
महाराष्ट्र
मणिपुर
मेघालय
मिजोरम
नागालैंड
उड़ीसा
पंजाब
राजस्थान
सिक्किम
तमिलनाडु
तेलंगाना
उत्तराखंड
उत्तर प्रदेश
पश्चिम बंगाल
अंडमान-निकोबार
चंडीगढ़
दादरा-नगर-हवेली
दमन-दीव
लक्षद्वीप
पांडिचेरी
10 Best Live Chat Operator Jobs from Home 2023
Dear Friends welcome to all of you in the new Article, 10 Best Live Chat Operator Jobs from Home 2023 , You can certainly do live chat operator jobs from home anywhere in the world. When you work remotely, you can skip long commutes and wear whatever's comfortable.
We wanted to get past the scams, so we found actual people that work as chat operators and asked them who they work for and how much they earn.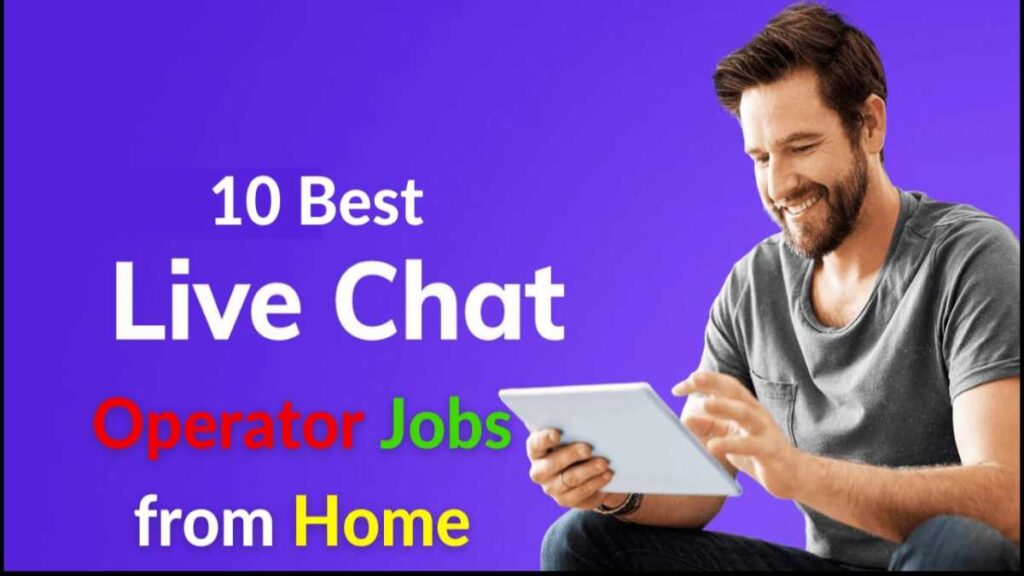 10 Best Live Chat Operator Jobs from Home
Many businesses and brands like to outsource their customer service to companies that handle them. Because of this, there are always chat support job opportunities for people looking to make a side income.
You can apply for live chat operator jobs from home on platforms such as Support, Indeed, and ECS among others after meeting the minimum requirements.
Indeed
Indeed has already made its name as one of the best job-search platforms. It caters to the needs of aspirants from all over the world. And now, you can also find your suitable chat support or customer support job right through this amazing platform.
This website now has a dedicated "remote" work segment where you can find lucrative chat support job opportunities for home-based customer support jobs.
Smith.ai
Answer calls and web chats for a variety of businesses and professionals across the US alongside the fun and friendly team at Smith.ai. It's fast-paced work, so previous phone experience is a must. Applicants will need to be in the US, Canada, or Mexico.
Smith.ai operates 24 hours a day, 7 days a week. Choose a full-time or part-time schedule. Currently hiring for shifts Monday – Sunday between:
10am – 9pm Eastern
9am – 5pm Central
8am – 4pm Mountain
7am – 3pm Pacific
You must be available 4 hours a day, 5 days a week (minimum of 20 hours per week, 40 hours max). Shifts are broken into 2- to 5-hour blocks. Applicants will need to be from the US, Canada, or Mexico.
Kelly Connect
Kelly Connect is a company that connects you with different work from home opportunities and chat operator jobs are one of them.
Many people we spoke with said they do require you to work weekends and holidays, so just be aware before applying if this will be an issue.
Potential earnings: $13.50+/hr.
Sitestaff Chat
SiteStaff is currently hiring a freelance workforce from all over the world to scale up its customer support team. The job role of this company is pretty interesting as you need to engage visitors and try to solve their queries as soon as possible. They also don't have any specific criteria to apply.
Besides having strong grammatical knowledge, you will need to have a good grip over the idea of punctuation and spelling. They also want you to have a typing speed of around 70 words per minute to get selected. You also need to be a multitasker to handle 3-4 conversations at a time.
Arise
The Arise Platform provides work from home customer support opportunities to call center companies and their agents. They also offer support to Fortune 500 companies.
The benefit of working with Arise is that you are an independent contractor and able to set your own schedule and choose which brands you work for.
You can earn from $9 – $18 per hour and work as little or as many hours that you are available.
Asurion
Asurion is a company that hires people for remote work. From corporate roles to tech repair, they support more than 300 million customers.
They have also offered to mail you a phone and headset. There is great potential for growth in this company where we have seen people move up in as little as 6 months.

Potential earning: Starting pay is $13.50 and they pay bi-weekly
Concentrix
Concentrix has made its name for providing the best-in-class customer support experience for clients from all over the world.
Mainly known for handling chat tickets and email queries, this company hires freelancers to become a part of their customer support team.
TeleTech
Teletech is a safe company that in the past has been criticized by its employees due to their poor working conditions.
Within the last decade, they have turned themselves around and have given more focus to their employees and their conditions.
Teletech now operates in 19 countries and has an estimated 50,000 employees and their annual revenue reaches 1 billion dollars.
Apple
An ad for Apple and tips for getting employed by the company ad for Apple and tips for getting employed by the company
Most people think you'll need to finish college to be able to get into Apple but not with this position.
All Apple requires is for you to have a hardwired internet connection, at least two years of customer service experience, technical support experience, 40 wpm typing, and be able to pass a background check.
Some of their benefits include 12 sick days and 12 vacation days, dental and medical insurance, employee and family discounts, and a 401(K) plan.
Another not-so-small detail is that you are not required to have prior knowledge about their products and they'll send you a Mac with a headset. Also, Apple will reimburse you for the amount of internet you are using!
Amazon
Amazon is another big company that offers chat operator jobs.
Amazon has peak seasons where chats and calls are at an all-time high. During these peak seasons employees can be expected to work as many as 60 hours a week!
60 hours a week can sound kind of scary, but it's only for a short period of time.
Job requirements: High school diploma or GED equivalent and at least six months experience in customer service.
Amazon also offers benefits to their employees but unlike Apple, you must become a full-time employee to receive Healthcare, 401(K) plan, parental leave, paid time off and holiday, and etc. Employment status: Full-time.
Best Live Chat Operator Jobs (FAQs):
What is an online chat representative?
As a Chat Representative you would be responsible for identifying customer needs and determining appropriate actions for resolution. You will also help identify process improvement recommendations that drive customer satisfaction
What is a chat support agent?
Chat support is a common method of customer service or support that offers assistance to customers through the use of a messaging app or online chatbot.
Conclusion:
If you've any thoughts on the 10 Best Live Chat Operator Jobs from Home. then feels free to drop it in the below comment box. Keep visiting our website: jobbharati.com for new updates.
I hope you like this post so please share it on your social media handles & Friends. Don't forget to subscribe to our newsletter to get new updates related to the posts, Thanks for reading this article till the end.
Note
Jobbharati.com किसी भी प्रकार की नौकरी देने के लिए कॉल या मैसेज नहीं करता है और न ही पैसे लेता है, कृपया फर्जी कॉल के धोखाधड़ी से सावधान रहें।