The Eklavya Model Residential Schools (EMRS) were established by the Ministry of Tribal Affairs, Government of India, with the objective of providing quality education to tribal students across the country. These residential schools follow a holistic approach towards education, focusing on academic excellence, character development, and cultural preservation. To uphold the high standards of education in these schools, the recruitment of qualified and dedicated teachers plays a pivotal role.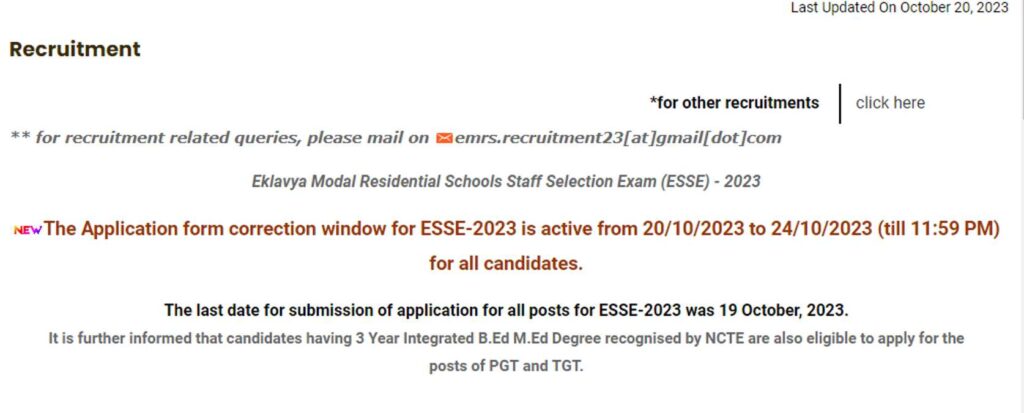 The EMRS Recruitment 2023 presents a significant opportunity for individuals passionate about teaching and making a positive impact on the lives of tribal students. By joining EMRS as a teacher, candidates will not only contribute to the academic growth of the students but also help foster their overall development, nurturing their talents and aspirations.
EMRS Teacher Notification 2023:
The EMRS Teacher Notification 2023 is eagerly awaited by aspiring candidates who wish to embark on a fulfilling teaching career in Eklavya Model Residential Schools (EMRS). This notification, to be released soon on the official website of the National Test Agency (NTA), will serve as a comprehensive guide for interested individuals. It will provide crucial details regarding the eligibility criteria, application process, examination scheme, and other relevant information for EMRS Teacher Recruitment 2023. Candidates can access the EMRS Teacher Notification 2023 PDF from the official NTA website, enabling them to prepare effectively for this prestigious opportunity.
EMRS Teacher Recruitment Rules:
The recruitment rules for EMRS Teachers have recently been revised, and the EMRS Teacher Notification 2023 will provide a detailed overview of these rules. Candidates must familiarize themselves with the revised rules, as they outline the selection process, eligibility criteria, and post-wise vacancies available for different teaching positions in EMRS. By carefully reviewing the EMRS Teacher Recruitment Rules mentioned in the official notification, prospective candidates can ensure they meet the necessary qualifications and understand the requirements for each position.
EMRS Teacher Vacancy:
As per the Union Budget announcement, a total of 38,800 teachers will be recruited for EMRS. The vacancies are distributed across various teaching positions as follows:
Principal: 740 vacancies
Vice-Principal: 740 vacancies
Post Graduate Teachers: 8,140 vacancies
Post Graduate Teacher (Computer Science): 740 vacancies
Trained Graduate Teachers: 8,880 vacancies
Art Teacher: 740 vacancies
Music Teacher: 740 vacancies
Physical Education Teacher: 1,480 vacancies
Librarian: 740 vacancies
The total number of teaching vacancies is 22,940, while there are 15,860 non-teaching vacancies. The grand total of vacancies in EMRS Recruitment 2023 is 38,800.
The EMRS Recruitment 2023 offers aspiring individuals a chance to become teachers in Eklavya Model Residential Schools. To be eligible for this esteemed opportunity, candidates must meet specific eligibility criteria outlined by the authorities.
Application Process, Admit Card, Exam Pattern, and Result
EMRS Recruitment 2023 provides a pathway for individuals aspiring to become teachers in Eklavya Model Residential Schools. To ensure a smooth and successful application process, it is crucial for candidates to be aware of the various stages involved, such as filling out the application form, obtaining the admit card, understanding the exam pattern and syllabus, and checking the result. This article aims to provide a comprehensive guide to the application process, including information on the admit card, exam pattern, and result declaration, to assist candidates in their journey towards EMRS Recruitment 2023.
FAQ's