आंध्र प्रदेश
मध्य प्रदेश
बिहार
छत्तीसगढ़
दिल्ली
अरुणाचल प्रदेश
असम
गोवा
गुजरात
हरियाणा
हिमाचल
जम्मू कश्मीर
झारखंड
कर्नाटका
केरल
महाराष्ट्र
मणिपुर
मेघालय
मिजोरम
नागालैंड
उड़ीसा
पंजाब
राजस्थान
सिक्किम
तमिलनाडु
तेलंगाना
उत्तराखंड
उत्तर प्रदेश
पश्चिम बंगाल
अंडमान-निकोबार
चंडीगढ़
दादरा-नगर-हवेली
दमन-दीव
लक्षद्वीप
पांडिचेरी
Agricultural Surveyor Vacancy 2023: Direct recruitment on the posts of Agricultural Surveyor in Agriculture Department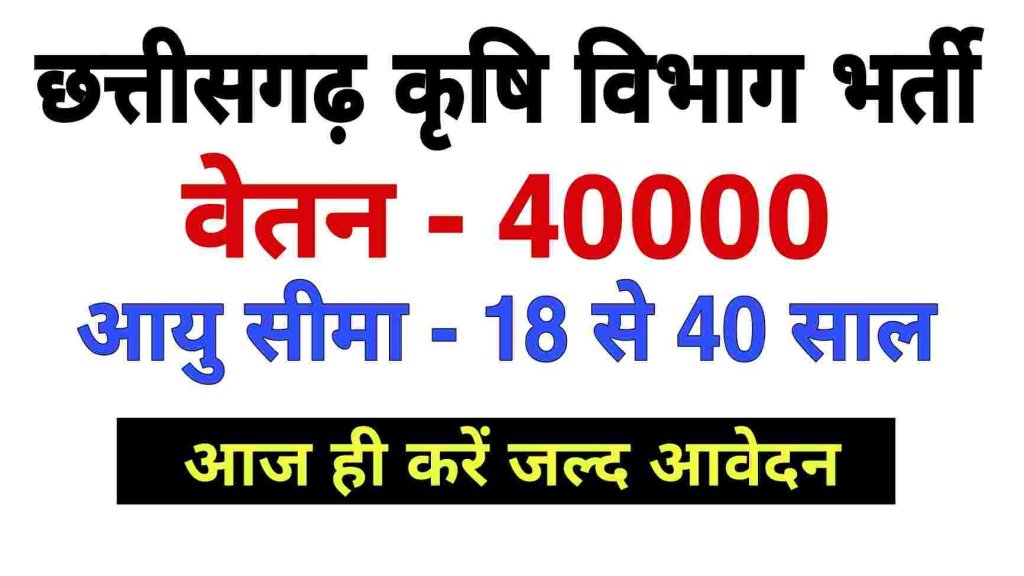 One day placement camp will be organized at District Employment and Self Employment Guidance Center Kanker on January 23 from 11 am to 03 pm. District Employment Officer B.R. Thakur informed that recruitment will be done on the basis of 622 vacancies by private sector employers in the placement camp.
For which 500 posts of Security Guard, 08 posts of District Coordinator, 06 of District Label Trainer, 06 of Event Development Programmer, 02 of District Nodal Officer, 40 posts of Marketing Executive, 20 posts of Health Surveyor, 20 posts of Agriculture Surveyor and Property Recruitment will be done on 20 vacant posts of surveyor.
Interested applicants can submit the application form along with their complete resume by appearing in the said placement camp. Based on the applications received, the primary selection will be done by the employer and the interview will be conducted, the information of which will be given to the applicant through phone.
Recruitment Post Name
Recruitment to the posts of Agricultural Surveyor in District Employment Office Department
Recruitment Qualification
8th, 10th degree should be obtained from any recognized board or institution.
recruitment pay scale
Recruitment pay scale 15,000 thousand to 22,000 thousand rupees per month
recruitment age limit
The age limit of recruitment should be between 18 to 38 years.
Documents required to apply for the recruitment / if required,

5th Class Marksheet
8th Class Marksheet
10th Class Marksheet
12th Class Marksheet
Graduation Marksheet
Aadhaar Card
Passport Photo
Residence Certificate
Caste Certificate
Income Certificate
Documents required for recruitment to the posts of Security Guard in District Employment Office Department

1. One passport size photograph of the candidate and signature of the candidate to apply

2. Candidate's 8th, 10th mark sheet and 12th mark sheet.

3. Original certificate of graduation and degree of the candidate to apply.

4. Original copy of Domicile Certificate and Caste Certificate of the applicant.

5. Applicant's Aadhaar Card or PAN Card or Driving License or any other Identity Card issued by the Government Department.

6. For more details of recruitment refer official notification, pdf file is available below.
Important note :-

1. The number of posts is subject to change.
2. This advertisement is being published as per the demand letter of the concerned department.
3. The selection to be made for the above advertised posts will be subject to the final order/judgment passed in the petitions filed in the Hon'ble High Court (No. Writ Petition (C) No. Writ Petition (C) No. and Writ Petition (C) No. And as per the final order/decision of the Hon'ble High Court, there may be a change in the number of category wise vacancies of the posts advertised.

5. Reservation of vacancies :-

(i) The posts shown in column no. 4, 5 and 6 of the above table are reserved only for candidates belonging to Scheduled Castes, Scheduled Tribes and Other Backward Classes (non-creamy layer) of the State notified for India and Column number 7, 8, 9 and 10 of the above table only
Before applying online, candidates should ensure themselves by observing the rules whether they are eligible to appear in the examination or not. If a candidate is found ineligible at any stage of the examination or even after the declaration of the result or any information given by him is found to be false, then his candidature / selection result will be cancelled.
date of placement
Placement camp will be organized on January 23 from 11 am to 03 pm
Question : How to apply for Agricultural Surveyor Recruitment?
Answer : To apply for Agricultural Surveyor recruitment, first of all you have to go to Google and search Mantralayajob.com after that the home page will open where you will see the search option on the top corner where you have to search about this department Where you will get to see the complete information about this recruitment, from where you can apply for this recruitment after observing it well.
Question : What is the educational qualification for Agricultural Surveyor Recruitment?
Answer : The educational qualification for District Coordinator recruitment should be 10th, 12th pass and graduation from any recognized board or institution.
Question : What is the age limit of Agricultural Surveyor Recruitment?
Answer : The age limit of Agricultural Surveyor recruitment should be between the minimum age limit of 18 years and the maximum age limit of 38 years.
Note
Jobbharati.com किसी भी प्रकार की नौकरी देने के लिए कॉल या मैसेज नहीं करता है और न ही पैसे लेता है, कृपया फर्जी कॉल के धोखाधड़ी से सावधान रहें।