आंध्र प्रदेश
मध्य प्रदेश
बिहार
छत्तीसगढ़
दिल्ली
अरुणाचल प्रदेश
असम
गोवा
गुजरात
हरियाणा
हिमाचल
जम्मू कश्मीर
झारखंड
कर्नाटका
केरल
महाराष्ट्र
मणिपुर
मेघालय
मिजोरम
नागालैंड
उड़ीसा
पंजाब
राजस्थान
सिक्किम
तमिलनाडु
तेलंगाना
उत्तराखंड
उत्तर प्रदेश
पश्चिम बंगाल
अंडमान-निकोबार
चंडीगढ़
दादरा-नगर-हवेली
दमन-दीव
लक्षद्वीप
पांडिचेरी
SSC MTS JOB APPLY 2023 : एसएससी में 11404 पदों पर निकली सरकारी नौकरी भर्ती
Government of India, Ministry of Personnel, Public Grievances & Pensions, Department of Personnel & Training, Staff Selection Commission, Block C- 12, Central Office Complex, Lodhi Road, New Delhi-110003
MULTI-TASKING STAFF (NON-TECHNICAL), AND HAVLDAR (CBIC & CBN) EXAMINATION, 2022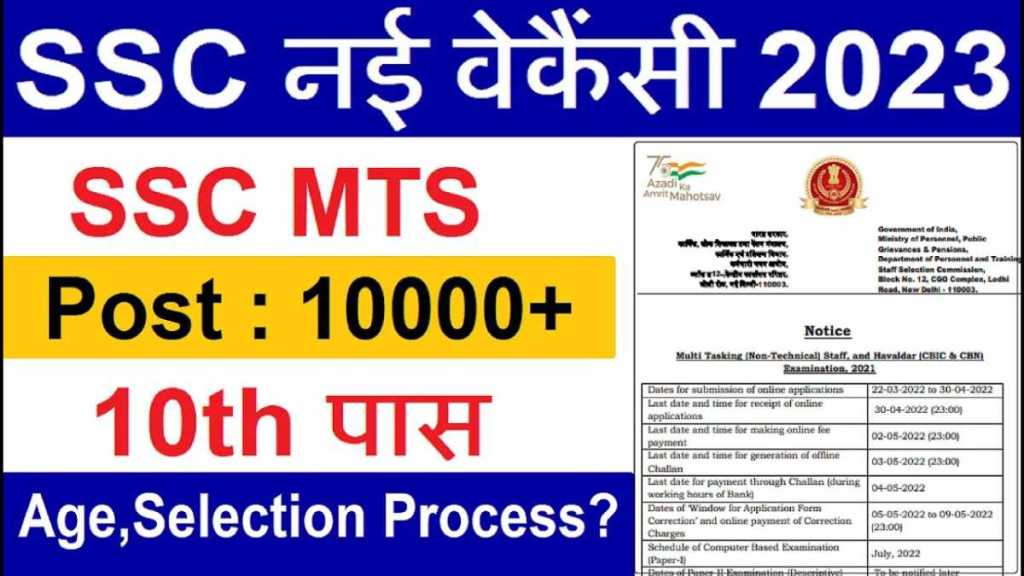 Recruitment department name
Staff Selection Commission, Government of India
Recruitment Post Name
MULTI-TASKING STAFF (NON-TECHNICAL), AND HAVLDAR (CBIC & CBN)
EXAMINATION, 2022
Recruitment Qualification
Essential Educational Qualification (As on 17-02-2023): Candidates must have passed Matriculation (10th) Examination or
its equivalent from a recognized Board on or before the cut-off date. 17-02-2023
recruitment age limit
Age Limit (As on 01-01-2023): Age limit for the posts as per Recruitment Rules of various User
Departments are:
18-25 Years (i.e. the candidate must not have been born earlier than 02.01.1998 and not later than 01.01.2005 onwards) for MTS and Havildar in CBN (Department of Revenue). 18-27 years (i.e. candidate born not earlier than 02.01.1996 and not later than 01.01.2005) in CBIC for Havildar (Department Revenue) and certain posts of MTS
SSC MTS Recruitment 2023: Government job recruitment for 10880 posts of Multi-Tasking Staff and Havaldar
recruitment pay scale
RECRUITMENT OF MULTI-TASKING (NON-TECHNICAL) EMPLOYEES (IN PAY LEVEL-1 AS PER 7TH PAY COMMISSION PAY MATRIX)
Total number of vacant posts of recruitment
Vacancies : 2.1 The tentative vacancies for the posts are as under: MTS : 10880 (Approx.)# Havildar in CBIC & CBN : 529* Updates/detailed vacancies will be made available on the website of the Commission (https://ssc.nic.in-> Candidate's Corner-> Tentative Vacancy). *Here are the details of Havildar vacancies in CBIC and CBN
Nationality/Citizenship:
5.1 A candidate must be either:
(a) a citizen of India, or
(b) a subject of Nepal, or
(c) a subject of Bhutan, or
(d) a Tibetan refugee who first came to India before January, 1962, with the intention of permanently settling in India,
or
(e) a person of Indian origin who has migrated from Pakistan, Burma, Sri Lanka, the East African countries of Kenya, Uganda, the United Republic of Tanzania (formerly Tanganyika and Zanzibar), Zambia , Malawi, Zaire, Ethiopia and Vietnam with the intention of permanently settling in India.

5.2 Provided further that a candidate belonging to categories (b), (c), (d) and (e) above shall be a person in whose favor a certificate of eligibility has been issued by the Government of India.

5.3 A candidate in whose case a certificate of eligibility may be necessary is admitted to the examination but will be offered appointment only after the necessary eligibility certificate has been issued to him/her by the Government of India.
how to apply:
10.1 The application should be submitted in online mode on the website of the Commission i.e. https://ssc.nic.in. For detailed instructions, please refer to Annexure-III and Annexure-IV of this notice. Specimen proforma for One Time Registration and Online Application Form are attached as Annexure-IIIA and Annexure-IVA respectively.

10.2 In the Online Application Form, candidates are required to upload scanned color passport size photograph in JPEG format (20 kb to 50 kb). The dimensions of the photograph image should be approximately 3.5 cm (width) x 4.5 cm (height). In pursuance of the order dated 05.03.2020 of the Hon'ble Supreme Court in the matter of Shantanu Kumar & Ors. [Writ Petition (C) No. 234 of 2018], the photograph of the candidate should be not more than three months old from the date of publication of the notice of examination. The photograph should be without cap and spectacles. The front view of the face should be clearly
visible.

10.3 Before submitting the Application Form, candidates must ensure that the photograph is uploaded as per the instructions given. If the photograph is not uploaded by the candidate in the desired format, his/her application/candidature will be rejected or cancelled. Specimen photographs identifying acceptable/not acceptable photographs are also given in Annexure-V.

10.4 Last date and time for submission of online application is 17-02-2023 (23:00 hours).
10.5 Candidates are advised in their own interest to submit ONLINE applications much before the closing date and not to wait till the last date to avoid the possibility of disconnection/inability to login to SSC website on or about due heavy load. website during the failed closing days.

10.6 The Commission accepts no responsibility if the candidates are not able to submit their applications within the last date on account of the aforesaid reasons or any other reason which is beyond the control of the
Commission.
Application fee:
11.1 Fee Payable: Rs. 100/- (Rupees One Hundred only).
11.2 Women candidates and candidates belonging to Scheduled Castes (SC), Scheduled Tribes (ST), Persons with Disabilities (PwBD) and Ex-Servicemen (ESM) eligible for reservation are exempted from payment of fee. 11.3 The fee can be paid online using BHIM UPI, Net Banking, VISA. SBI Branches by generating SBI Challan through Mastercard, Maestro, RuPay Credit or Debit cards or by cash. 11.4 Candidates can pay the fee online till 19-02-2023 (up to 23.00 hrs). hours). However, candidates who wish to make cash payment through SBI challan, may make the payment in cash at SBI branches within working hours of the bank up to 20-02-2023. generated by11.5 Candidates who are not exempted from fee payment should ensure that their fee is deposited with SSC.

 If the fee is not received by SSC, the status of the application form is shown as 'Incomplete' and this
information is printed on the top of the printout of the application form. Furthermore, the fee payment status can be verified at 'Payment Status'. Link provided in the login screen of the candidate. Such applications which
remain incomplete due to non-receipt of fee shall be summarily rejected and no request for consideration of such applications and fee payment shall be entertained after the period specified in the notice of examination. 11.6 Fee once paid shall not be refunded under any circumstances nor shall
it be adjusted against any other examination or selection.
Application Form Correction Date
2 Window for Application Form Correction [23-02-2023 to 24-02-2023
(23:00 Hours)]
date of application
Online Application Submission Date 18-01-2023 to 17-02-2023
exam date
Schedule of Computer Based Examination April, 2023
Note
Jobbharati.com किसी भी प्रकार की नौकरी देने के लिए कॉल या मैसेज नहीं करता है और न ही पैसे लेता है, कृपया फर्जी कॉल के धोखाधड़ी से सावधान रहें।