आंध्र प्रदेश
मध्य प्रदेश
बिहार
छत्तीसगढ़
दिल्ली
अरुणाचल प्रदेश
असम
गोवा
गुजरात
हरियाणा
हिमाचल
जम्मू कश्मीर
झारखंड
कर्नाटका
केरल
महाराष्ट्र
मणिपुर
मेघालय
मिजोरम
नागालैंड
उड़ीसा
पंजाब
राजस्थान
सिक्किम
तमिलनाडु
तेलंगाना
उत्तराखंड
उत्तर प्रदेश
पश्चिम बंगाल
अंडमान-निकोबार
चंडीगढ़
दादरा-नगर-हवेली
दमन-दीव
लक्षद्वीप
पांडिचेरी
Ministry of Technical Officer Vacancy : Direct recruitment on the posts of Technical Officer by Ministry Department
Ministry of Technical Officer Vacancy :- Responsible for planning, budgeting and coordinating RNTCP ACSM activities for the entire country in consultation with CTD and GoI NRHM IEC Division Plan advocacy and interventions, either directly or through partners, professional agency and in consultation with CTD Assist in supervision,
monitoring and implementation of ACSM activities at the national and state levels Assist in the development of ACSM related documents, agenda notes, RFPs, defining scope of works, developing progress reports and other documents, as required Provide support in identifying,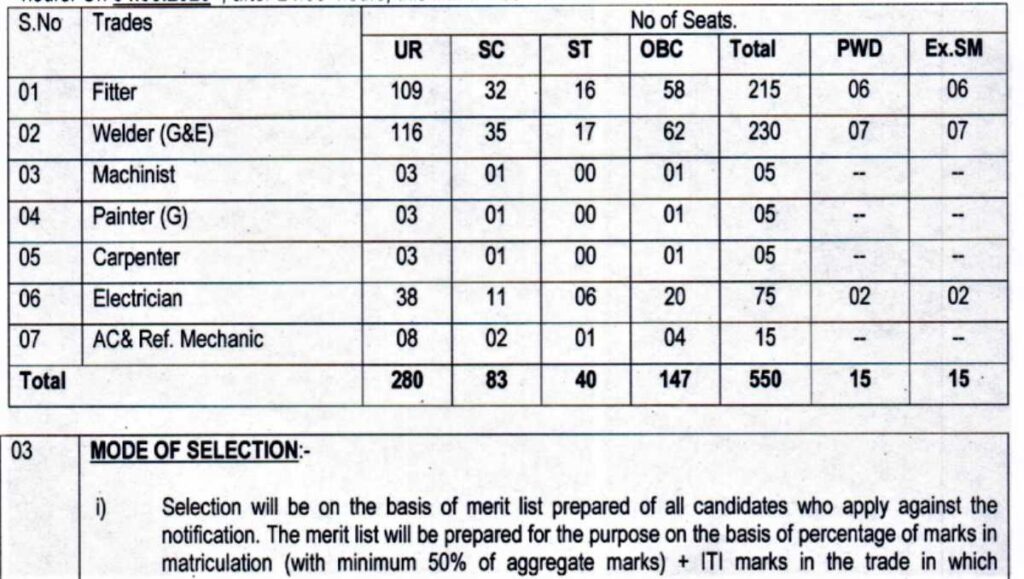 compiling and disseminating best practices and innovations for replicating and scaling up of ACSM models Assist CTD in hiring of professional agency as and when required, to develop and disseminate material for print media and mass media,
for patient counseling and sensitization of health providers Participate in programme review meetings, provide feedback to states and suggest improvements from an ACSM perspective Assist in the development of training,sensitisation aids of health professionals Provide relevant information to the media and public information systems in consultation with CTD officials as and when required Coordinate with
the mass education media wing of general health system and public information system for intersectoral coordination for TB control Facilitate change management with respect to use of ICT and Nikshay tools and its use for public health action Any other job assigned as per programme requirements
भर्ती की विभाग का नाम
Ministry of Labour & Employment
भर्ती की पद का नाम
Technical Officer
भर्ती की योग्यता
Minimum Qualification Required:
Post Graduate
Desired PG Qualification Specialization:
M.A. (Master of Arts) (Rural Development), M.A. (Master of Arts) (Social Science), M.A. (Master of Arts) (Social Work), M.M.C. (Master of Mass Communications) (Mass Communication)
भर्ती की वेतनमान
30,000/- to 48,000/-
भर्ती की आयु सीमा
Age Preferences (in Years)
Age less than or equal to 65 years as on 01/03/2023Date of Birth Preference
Born on or after 01/03/1958
आवेदन करने की तिथि
Last date to apply: 01/03/2023
Question : तकनीकी अधिकारी भर्ती में आवेदन कैसे करें ?
Answer : तकनीकी अधिकारी भर्ती में आवेदन करने के लिए सबसे पहले आपको गूगल में जाकर सर्च करना है Mantralayajob.com उसके बाद होम पेज ओपन हो जाएगा जहां पर आप को टॉप कॉर्नर पर सर्च का ऑप्शन दिखेगा जहां पर आपको इस विभाग के बारे में सर्च करना है जहां पर आपको, इस भर्ती की पूरी जानकारी वहां पर देखने को मिल जाएगा जहां से आप अच्छे से अवलोकन करके इस भर्ती में आवेदन कर सकते हैं।
Question : तकनीकी अधिकारी भर्ती की शैक्षणिक योग्यता क्या है ?
Answer : तकनीकी अधिकारी भर्ती की शैक्षणिक योग्यता किसी भी मान्यता प्राप्त बोर्ड या संस्था से 10वीं, 12वीं पास और स्नातक की उपाधि प्राप्त होनी चाहिए।
Question : तकनीकी अधिकारी भर्ती की आयु सीमा क्या है?
Answer : तकनीकी अधिकारी भर्ती की आयु सीमा न्यूनतम आयु सीमा 18 वर्ष और अधिकतम आयु सीमा 38 वर्ष के मध्य होने चाहिए।
Question : CG Job Alert WhatsApp Group Link?
Which job website is the best in India Cg Chhattisgarh?
What is CG Vyapam?
Chhattisgarh Professional Examination Board (CGPEB) is a professional examination board of Chhattisgarh, India. It conducts various exams for the recruitment of candidates for various positions in the state government of Chhattisgarh : MantralayaJob.Com
Whats CG Vyapam Official Site?
How to Apply for cgvyapam Vacancy?
You can visit the home page of CG Vyapam to apply for any exam and job vacancy. After visiting official website www.vyapam.cgstate.gov.in you have to go to careers page and check latest CG Vyapam New Vacancy CGPEB you can apply online to fill CG Vyapam NIC in online form. Mantralayajob.com
CG Vyapam Vacancy 2023
Cg Vyapam Patwari Recruitment
Cg Vyapam WCD Recruitment
Cg Vyapam Supervisor Recruitment
Cg Vyapam WRD Recruitment
Cg Vyapam Police Recruitment
Cg Vyapam Peon Recruitment
Cg Vyapam 10th Pass Recruitment
Cg Vyapam 12th Pass Recruitment
Cg Vyapam Upcoming Recruitment
How to apply for Peon Recruitment?
Peon To apply for this recruitment, first of all you have to search in Google by going to Mantralayajob.com, after that the home page will open where you will see the search option on the top corner where you have to search about this department where But you will get to see the complete information of this recruitment there, from where you can apply for this recruitment by observing it well.
What is the educational qualification of Peon Recruitment?
The educational qualification of peon recruitment should be 10th, 12th pass and graduation from any recognized board or institution.
What is the age limit of Peon Recruitment?
The age limit of peon recruitment should be between the minimum age limit of 18 years and the maximum age limit of 38 years.
Join in WhatsApp Group :-Click Hare
Note
Jobbharati.com किसी भी प्रकार की नौकरी देने के लिए कॉल या मैसेज नहीं करता है और न ही पैसे लेता है, कृपया फर्जी कॉल के धोखाधड़ी से सावधान रहें।