आंध्र प्रदेश
मध्य प्रदेश
बिहार
छत्तीसगढ़
दिल्ली
अरुणाचल प्रदेश
असम
गोवा
गुजरात
हरियाणा
हिमाचल
जम्मू कश्मीर
झारखंड
कर्नाटका
केरल
महाराष्ट्र
मणिपुर
मेघालय
मिजोरम
नागालैंड
उड़ीसा
पंजाब
राजस्थान
सिक्किम
तमिलनाडु
तेलंगाना
उत्तराखंड
उत्तर प्रदेश
पश्चिम बंगाल
अंडमान-निकोबार
चंडीगढ़
दादरा-नगर-हवेली
दमन-दीव
लक्षद्वीप
पांडिचेरी
OPSC Odisha Judicial Services 2021 Final Result Released : Odisha Public Service Commission Result Update
OPSC Odisha Judicial Services 2021 Final Result Released : Odisha Public Service Commission Result Update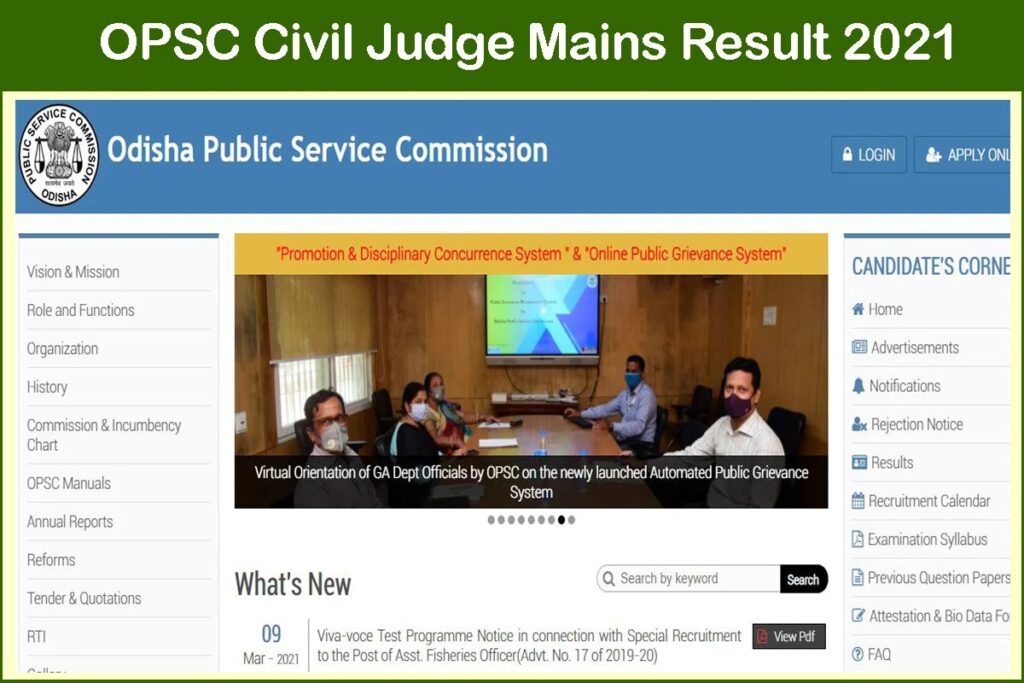 Name of the Post: OPSC Odisha Judicial Services 2021 Final Result Released
Post Date: 14-12-2021
Latest Update: 12-11-2022
Total Vacancy: 53
Odisha Judicial Services Final Selection List & Rejection List Out on 11th November 2022! This is in reference to advt no 23 of 2021-22. A total of 321 candidates have qualified for the the DV & Viva Voce which was held from 7th October to 6th November 2022. The Odisha Judicial Services Result for all the stages was released separately on the official OPSC website. Read on, to know more about the Odisha Judicial Services Result.
The final selection list for Odisha Judicial Services has been released on 11th November 2022.
A total of 50 candidates are finally selected for 2021 cycle, out of which 28 are women candidates.
The result is released in the form of a PDF which contains roll numbers, name, category, etc of the shortlisted candidates.
Important Dates
Starting Date for Registration/ Re-Registration & Payment of Fee: 21-12-2021
Last Date for Registration/ Re-Registration & Payment of Fee: 20-01-2022
Last Date for Submission of Registered Online Application: 27-01-2022
Date of Prelims Examination: 27-03-2022 (Sunday)
Date of Downloading Admit Card: From 21-03-2022 Onwards
Date of Mains Examination: 05 to 08-06-2022 (Changed to 09 to 12-06-2022
Important Links
OPSC Odisha Judicial Services 2021 Final Result Released
Note
Jobbharati.com किसी भी प्रकार की नौकरी देने के लिए कॉल या मैसेज नहीं करता है और न ही पैसे लेता है, कृपया फर्जी कॉल के धोखाधड़ी से सावधान रहें।